Skolkovo gains a new resident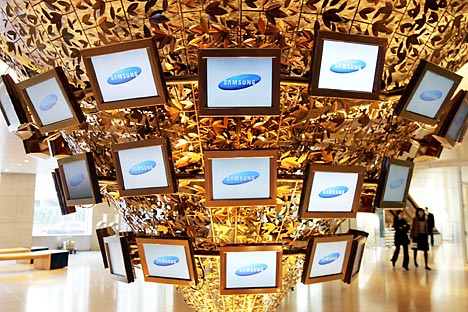 Korean manufacturer Samsung is expected to open design and experimental centers in Skolkovo. Source: AP
Korean manufacturer Samsung is planning to open design and experimental centers in the Skolkovo Innocity.
Samsung's current development center in Moscow focuses on software products, and the company has not elaborated on the exact role of the Skolkovo site. The company's intention to establish a presence in Skolkovo does not come as a surprise, as the Korean outfit pursues an active policy locally and eagerly hires Russian specialists.
Finam analyst Leonid Delitsyn says that Samsung has been hiring graduates of Russian universities for 15 years. According to Delitsyn, "professors tend to complain because the Korean company lures postgraduates away from universities, [offering] 50,000 rubles to start with." Since this is far above the 3000 ruble salary postgraduates usually receive, it has led to allegations of "poaching."
Samsung's addition to the Skolkov community comes hot on the heels of other high-profile foreign firms such as Ericsson, Cisco and Microsoft establishing a presence there. Microsoft's R&D center in the Skolkovo Innocity will focus on applied research and software development, as well as cloud computing solutions. The Microsoft R&D center is expected to employ more than 100 IT specialists and scientists in Skolkovo by 2015. In mid-June 2011, Nokia Siemens Networks set up a 4G R&D center in the Sistema-Sarov Technopark to study methods for expanding the capacity of radio networks.
Experts agree that large companies should establish their R&D centers in Russia as soon as possible to gain the maximum benefit. In Delistyn's view, "Russia possesses labor resources capable of taking up serious challenges, resources which won't still be there in 20 or 30 years." Indeed, international companies who conduct research in Russia now will have access to the most populous workforce in Europe, as well as the opportunity to build a good relationship with the Russian government by supporting initiatives such as Skolkovo.
Dmitry Adomidov, co-director of the Investcafe analysis firm, believes an R&D center in Skolkovo costs a foreign company between $30 million and $40 million.
First published in Russian in Izvestia.ru
All rights reserved by Rossiyskaya Gazeta.