Saeed Amidi, Plug and Play: We failed to give Facebook adequate consideration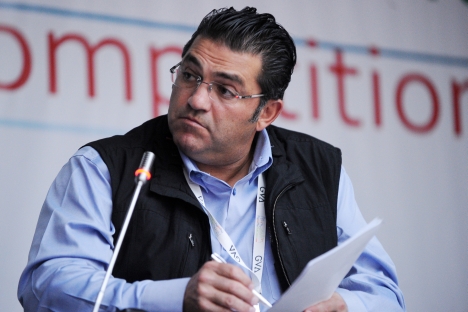 Plug and Play founder and general partner Saeed Amidi. Source: ITAR-TASS
The U.S.-based accelerator Plug and Play (PnP) earned its reputation as one of the world's most successful investment funds by being an early investor in PayPal and Google. Now the company has expanded to Russia with a shortlist of several startups it hopes to grow.
Plug and Play founder and general partner Saeed Amidi sat down with Vitaly Petlevoi of RBC daily to talk about his plans for the PnP Moscow Center and his feelings about Facebook.
RBC Daily: Plug and Play has often been lucky in choosing its investment targets. What, however, was your biggest mistake?
Saeed Amidi: Five years ago, we were given a chance to invest in Facebook when its value was still at $100m. We didn't. Honestly, we did not pay enough attention to this company. At that time, we were looking into many other startups, although we did see the possibility.
RBC: And your most successful decisions?
S.A.: We've had a lot of successes, primarily Google and PayPal. Sergey Brin and his team came to our office when they had only five people on their staff, and they grew to 50 employees in just two years. I don't quite remember when we started talking, but I remember clearly that the project was really at a very early stage. Both the founders were Stanford alumni, and they were hiring smart Stanford graduates. The company's focus was to develop the world's fastest search engine.
PayPal approached us with the idea of transferring money using mobile phones. Their original idea was to pay for coffee by mobile. But then, suddenly, the Internet took off and people began using PayPal online, while the company had to readjust quickly to the new market situation. Now, 15 years later, PayPal is going back to its original idea, to mobile technology.
At this point, we regard the cloud storage service DropBox and the provider of personal finance solutions Lending Club as the most promising projects.
RBC: In your opinion, can Russian companies ever equal, say, Google or Facebook?
S.A.: I think so, yes. Russian engineers and technical specialists are incredibly smart. If we take, for example, the space industry, they are among the best. So yes, I believe that, one day, Russian companies will prove themselves and even overtake the world's leaders in terms of both capitalization and technology.
RBC: Why did it take so long to prepare the Plug and Play launch in Russia? You announced the plans in October 2011.
S.A.: And, ever since, we've been working very closely with several Russian startups, and we also had to settle on an office and the people to work there. We took our new employees for an internship to the United States, to California, where we taught them to deal appropriately with entrepreneurs and universities – in other words, we were training our team.
RBC: It is known that you have met with the Skolkovo Foundation management. What did you agree on?
S.A.: At this point, we are searching for an understanding of the Russian startup community. News 360 [the creator of a news app with versions available for most mobile platforms, as well as for Google TV] can be considered as the first example of our cooperation. The company will come over to our offices in California. It has been a success in Russia and it is now trying to win over the US market. In the future, we are prepared to offer our services to startups fostered by the Skolkovo Foundation.
RBC: Are you planning to invest in Russian startups and, if so, in what amount?
S.A.: We are just sounding out the Russian market, so I cannot come up with any exact figure we would be ready to spend in Russia. Still, we are prepared to sign up to 10 deals a year in collaboration with Global Venture Alliance. This is not definite, but we will be trying to invest jointly.
The interview is abridged. The original version is available in Russian on the RBC Daily website.
All rights reserved by Rossiyskaya Gazeta.