A new gun for the Russian army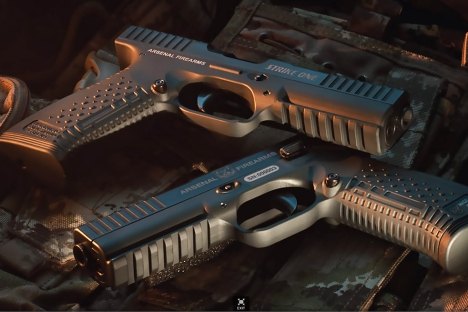 The new Strizh gun by Arsenal Firearms (which will be marketed abroad as the Strike) will be adopted by the Russian army as a replacement for the outdated Makarov. Source: Arsenal Fire Arms / Press Photo
Russia tries yet another pistol as a replacement for the legendary Makarov.
On June 13, Deputy Prime Minister Dmitry Rogozin, who oversees the defense industry, said that the new Strizh gun by Arsenal Firearms (which will be marketed abroad as the Strike) will be adopted by the Russian army as a replacement for the outdated Makarov. The new gun, which, according to Rogozin, surpasses pistols like the Austrian Glock, is expected to be put into service within the next few months.
The Russian Defense Ministry has long been planning to get rid of the Makarov, which was put into service in the late 1940s. The Makarov has a low fire rate, high recoil and infamously low shooting accuracy rates. However, the Strizh is not the first gun the Army has considered as a replacement.
In 2003, two new guns were proposed as a replacement – the Pistolet Yarygina (PYa), produced by the Izhevsk Mechanical Plant and the GSh-18 Gryazev-Shipunov pistol, produced by the KBP Instrument Design Bureau in Tula. The GSh-18 has been issued to officers as an award weapon since 2005, while the PYa, launched in mass production last fall, was first distributed among officers of the Western Military District in February.
Some experts question the promises made about the Strizh. Viktor Myasnikov of the Independent Military Review newspaper notes that Arsenal Firearms was only registered last year and the Strizh was developed in a record three months; development of a new gun usually takes at least five years. The looks "unpersuasive in the context of the possible adoption of hundreds of thousands of the pistols," Myasnikov said.
Rogozin himself has called for a broad public discussion of the new. Rogozin wrote on his Facebook page: "I'm encouraging you to argue, test the gun, give it good consideration – that's the only way to 'polish' this gun for batch production."
At the same time, other experts have hailed the new gun. Maxim Popen, the Russian firearms guru and founder of the website world.guns.ru, described the advantages of the new weapon this way: "It has lower recoil, allowing the shooter to aim faster and shoot more accurately and at a higher rate. This gun incorporates all of the contemporary technological solutions – the plastic frame, which makes the gun cheaper to make, lighter and resistant to corrosion."
The Arsenal Firearms experts responsible for the Strizh made use of their trademark design system and unique virtual testing system, which enabled them to assess the characteristics of the gun depending on the materials, type of powder and cartridges used.
The gun has a capacity of 17 rounds with the regular magazine and will have the option of a 30-round assault magazine, with eject buttons on both sides of the handle. The pistol has flashlight and target marker options and is designed to fit a standard Picatinny rail.
All rights reserved by Rossiyskaya Gazeta.