Virtual mobile operators to compete with traditional ones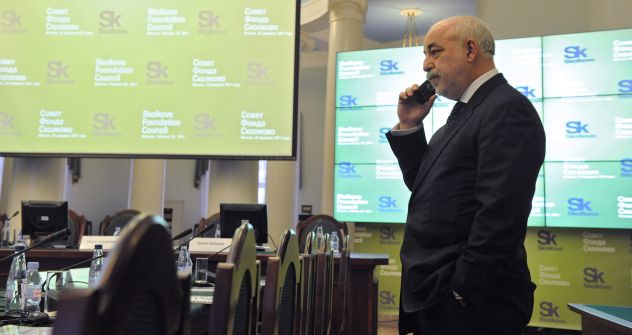 Viktor Vekselberg, businessman and president of the Skolkovo Foundation, before a meeting of the Foundation Council at the Bauman Moscow State Technical University. Source: RIA Novosti / Sergei Pyatakov
The Mobly virtual mobile network that recieved a grant from Skolkovo is going to make mobile communication global, reliable and able to provide Internet.
The developers of Russia's Mobly virtual mobile network have a small goal. All they want is to make mobile communication global, reliable and able to provide Internet and voice calls for about $20 a month.
"Even two years ago it was impossible to launch a project like Mobly due to the lack of infrastructure," said lead developer Denis Miganov. "We are using a combination of GSM, 3G and 4G networks, cloud technologies and IMS architecture (IP Multimedia Subsystem), which implies connection to any network including mobile, fixed, DSL, Wi-Fi, cable, etc. Besides, Mobly incorporates the technology of super thin film SIM cards. Having such a card, a user may use a local profile in any country and save both on voice and data roaming.
"The law adopted in Russia last year to regulate the activity of virtual mobile service providers has become very important as well. At present, any virtual operator may receive its own numbering capacity and access to the network operated by a 'Big Three' provider," Denis Miganov.
At present, there are more than 10 virtual operators in Russia and 430 ones worldwide, but Miganov says they all have different goals. Some want to dominate a local market, others want to use their brand to resell traffic. Some operators offer cheap roaming while others make it difficult to roam. Mobly wants to make life easier for the customer.
Miganov and his team plan to finance the Mobly project through venture capital. "First we thought it would be easier to attract investments in the U.S. But at present, investment environment in Russia starts obtaining pro-Western standards; it is possible to attract venture money through, for instance, a center for commercialization of projects like Skolkovo," Miganov said.
The company has already received an initial grant from Russia's "Silicon Valley." According to Alexander Turkot, head of the IT Technology Cluster at Skolkovo, it is difficult at the moment to say to what extent the project will actually correspond to its stated goals. "The project has great potential; it is well developed from the technical point of view, but only time will show if it is able to become first among the global MVNO (Mobile Virtual Network Operator) providers," Turkot said.
Mobly plans to start operating an independent virtual network along with other networks in different countries by 2014. A Mobly subscription will be available anywhere in the world on a single rate basis. Mobly will partner with traditional mobile providers and pay them a fee for the use of their infrastructure. According to Miganov, "In 2013, the Mobly service will be offered to subscribers of one large communications providers as an additional cloud service. It means a subscriber will have the opportunity to use the Mobly's service plan to the full extent."
Vitaly Solonin, head of Wireless Technology Department at Jonson & Partners does not think that the arrival of virtual providers necessarily means the end of traditional providers. "A rather large number of subscribers in Russia do not go to other countries, use additional services including mobile Internet or spend more than $10 a month," Solonin said.
Stanislav Vidyaev, a leading analyst with Google Russia agrees. "There will be no rejection of traditional operators, as the communications offered will become only an additional option. Traditional communications providers will reconsider their policy of entering global markets."
Valeria Kuzmenko, spokeswoman for major mobile operator MTS, does not believe the virtual service will work very well. "Implementation of projects like Mobly is, to our mind, possible, in two variants. The first one implies that a company will acquire a MVNO license for working in the virtual mobile communication market and search for an operator that will become a technical partner and provide its networks. The second variant is OTT [Over The Top]-service sector like Skype and other market players. This option requires traffic transit security, including that in roaming, and the stated low cost will unlikely enable the company to offer high quality of rendered services and compete with a great number of already existing similar services," Kuzmenko said. "Besides, for using OTT service, a user needs mobile or fixed Internet. This makes the service inconvenient for calls, especially when a person is on a holiday or business abroad, thus depriving a user of mobility. Both variants need working out return of investments and securing quality of communication service. Otherwise, the users who have connected to the service and paid for it may still suffer from the situation not being able to use this service."
Kuzmenko and other mobile operators see IT companies such as Skype as the real competition for virtual operators like Mobly.
According to Stanislav Vidyaev, the leading analyst at the Russian office of Google Russia, "such products and services evoke genuine interest from large IT companies. We all know about the purchase of Skype by Microsoft. Google launched Google Voice service in 2010. At present, technologies and networks are developing rapidly."
All rights reserved by Rossiyskaya Gazeta.