Youth Biennale chooses abstraction over indignation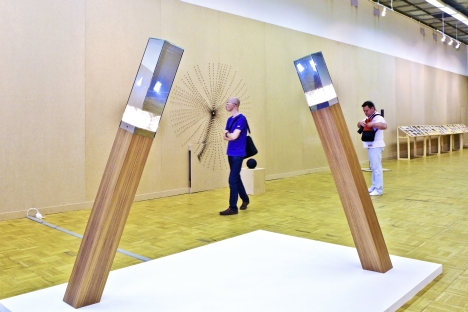 Moscow's Third International Biennale of Contemporary Youth Art at the Central House of Artists runs until August 7th. Source: Alexander Ganyushin
At a time when Russian artists are under fire, the Biennale for young artists was curiously, if not coldly, abstract.
As the curator for Moscow's Third International Biennale of Contemporary Youth Art, which is currently on exhibit at the Central House of Artists and other Moscow venues, Berliner Kathrin Becker had the unenviable task of reining in dozens of young artists.
Becker, unfortunately, did not find that "eureka" theme, the kind that brings cohesion and even vision to such a large-scale show. (An example of a successful net-cast-wide might be Oleg Kulik's "I Believe" exhibit held in Moscow in 2007). Instead, Becker introduced a vague and artificial theme, "Under a Tinsel Sun." Intriguingly, she found her inspiration in the lyrics of a song by a feminist punk group. You might be thinking of the Russian punk provocateurs called Pussy Riot who have received a lot of attention lately. Three members of the group are languishing in Russian jails right now, so that might make sense. But you would be wrong. This lyric is from a love song written by an old British group, "Poison Girls," a band that had its last recording date in the mid-1980s. There is little doubt, however, that the legacy of Poison Girls, a punk group led by a mother of two, an anarchist with a dash of optimism, influenced Pussy Riot.
Showing journalists around the main exhibit, Kathrin Becker stressed that overused concepts such as "innovation" and "post-modernism" no longer apply to youth art. The new generation of artists represented here grew up with the Internet and are more preoccupied by what she called "the sometimes imperceptible oscillation between the virtual and the real."
Judith Fegerl from Vienna, whose work clearly delights the curator, stood proudly next to her installation "Heritage of Galatea," a knitting machine weaving a cord that tangles. The young artists here have learned Duchamp's lessons well. But the works at the Central House of Artists are cold, conceptual and ultimately evoke only the absurd aspect of "contemporary art."
That Kathrin Becker has brought all these artists together is well and good. But, to quote Gertrude Stein, "there is no there there." There is a lack of impishness, a lack of fantasy and oddest of all, a lack of youthfulness. Although all the creators are under the age of thirty-five, they seem to be in a hurry to stress the seriousness and maturity of their aesthetic.
The curator acknowledged there is also something lacking in the current Russian art scene itself. She mentioned the closure of three of the most important galleries in the country (Guelman, XL and Aidan). She said she is concerned about the growing power of the Orthodox church over Russia's cultural life; the destruction of the exhibition entitled "Warning: religion!"; and the repression of Pussy Riot.
Yet there is also a glaringly unhappy paradox to this Biennale: None of these burning themes are tackled in the various exhibitions. Almost all of the work is abstract and depoliticized. (There is perhaps one exception: Misha Most's graffiti centers on the articles of the Russian constitution that are most frequently breached by the government. The work is relevant and interesting, at least, but not really daring! All the taboo subjects have been carefully expunged. Is provocation no longer fashionable? If that is the case, youth is also out of fashion.
As everyone knows, Russia has several faces. One of them smiles on contemporary art, through state funding and the organization of major events such as this biennale. The other opens up its dungeons when artists go too far off script. Three young women, punk rock opposition figures of the Pussy Riot collective, have been in pre-trial detention for more than four months for having arranged a performance in a cathedral. The Biennale ought to have shuddered at that.
Moscow's Third International Biennale of Contemporary Youth Art runs until August 7th.
For more information vist the official Biennale website: http://www.youngart.ru/
All rights reserved by Rossiyskaya Gazeta.