Where washing your mouth out with soap might be a pleasure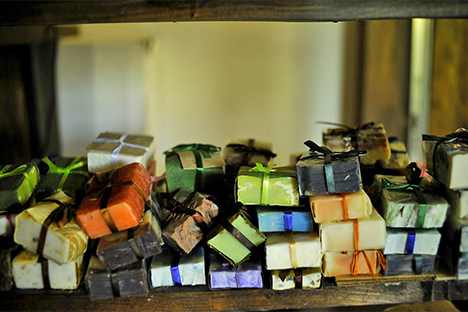 Kristina Suderevskaya makes about four tons of products a year. All of them are supplied to spa salons, elite bathhouses, stores and outlets selling natural cosmetics under the Krasnopolyanskoe Mylo brand name. Source: Mikhail Mordasov.
In the backyard of the 2014 Sochi Olympics, Medoveevka soap makers produce hand-made soap with calendula, carrot juice and goat milk.
Everything is edible and even looks appetizing in the kitchen of soap-maker Kristina Suderevskaya. Olive and sunflower seed oils are prepared in a steel bowl; pieces of coconut and palm oils are melting in a sauce pan on a low fire. Goat milk, honey, eggs, nettle, dried eucalyptus and rosebuds are at the ready, while baskets of forest herbs are picked up in the morning. There is a whole arsenal of bottles and flasks with essential and cosmetic oils.
The composition of soap from Medoveevka is not a big secret. It is written on the sheets of paper pinned to the chestnut shelves, the amount of each ingredient calculated to the gram. However, it is almost impossible to reproduce an author's recipe.
Suderevskaya, her husband Dmitry moved with their family from Moscow to a tiny mountain village, Medoveevka, located 6 miles from Krasnaya Polyana, the ski resort that will be a host of the Sochi 2014 Olympics. Cellular communication and electricity are still a challenge here, and snow covers the houses up to the roof in winter, while bears regularly visit the apple gardens in summer. However, the air and water are crystal clear, and forests and meadows are full of lush vegetation.
"I realize that it is really hard to believe that I make soap with goat milk, fresh carrot juice or a calendula decoction [a mashing and boiling to extract essence]. Why should I deal with fragile natural components, when there are cheap colorants, aromatizers and substitutes of every kind? People have a skeptical attitude to my products, buy them in small amounts for trial, but then they come back to buy an amount that is sufficient for a year. The difference between home-made and manufactured soap is obvious," Suderevskaya said.
Of course family friends and relative have to sample the home-made soap and shampoos, providing informal clinical trials. Medoveevka soap makers combine a mix of vegetable fats and a water solution of caustic soda (sodium hydroxide) that turn into soap through a chemical reaction. Various additives, such as oils, decoctions, milk, honey, etc., are introduced to the soap before it hardens.
The overwhelming majority of 'hand-made soap' producers today use a ready-made soap base that is sold as transparent capsules. The mass production soap base contains a huge amount of not very health-giving components, including the compounds of heavy metals.
If you see a transparent, smooth and especially glossy hand-made soap, most likely it is made of a soap base. Soap made from scratch is whitish, muddy, with its structure resembling that of a bar of a high-quality household soap.
Suderevskaya has been making soap for six years. She began with several bars – for personal use and for her friends. Now she makes about four tons of products a year: soap, shampoos, gels, balms, scrubs and creams. All of them are supplied to spa salons, elite bathhouses, stores and outlets selling natural cosmetics under the Krasnopolyanskoe Mylo brand name. Soap from Medoveevka is procured by private clients from Russia and other countries.
"We spent 'zero rubles and zero kopeks' on advertising; word of mouth has played its role, though I am also a brand manager," said Dmitry Serov, Kristina Suderrevskaya's husband: "The purpose of this business is not to buy a yacht tomorrow. We are doing it to give this chance to our grandchildren."
All rights reserved by Rossiyskaya Gazeta.