No limits for disable climbers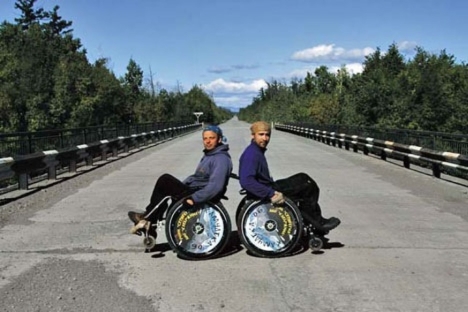 Russian mountain climbers show that even severe injuries do not have to limit quality of life.
Source: www.risk.ru
Last month, Alexander Pokhilko proved that to climb Africa's highest mountain, a strong will is more important than strong limbs. Pokhilko made it to the summit of Mt. Kilimanjaro despite having lost his arms in childhood.
During the climb, Pokhilko was not alone; his friend Alexander Shulchev, who is also disabled, made the climb with him. Together, the two men endured oxygen deficiency, altitude sickness and exhaustion. Realizing that artificial limbs are more trouble than help in the mountains, the climbers left their prostheses at the bottom and headed up without any aids – Pokhilko on his knees and Shulchev on his elbows.
Said Shulchev: "Climbing Kilimanjaro is the most difficult thing I have done in my life. But I understood that the key thing was not to fear. There are no limits."
Pokhilko added: "I think I've found empowerment in my life and it became easier for me to live. I am ready to move further and strive."
The two Alexanders followed a road paved by dozens of Soviet and Russian disabled climbers.
One of these is Muscovite Vladimir Krupenikov. During his military service, Krupenikov received a spinal cord injury that made him a paraplegic. However, in 1997, he climbed Mt. Elbrus, the highest mountain in Europe, in a wheelchair. Krupenikov found new life in his new hobby. He established a charity for disabled climbers and led an expedition entitled "Following Alexander Suvorov's Way through the Alps." "When in the mountains, you forget about your physical disabilities. Mountains are not interested what you look like or how many legs and arms you have. What matters is your inner strength and if you have enough of it to communicate with the nature as equals," Krupenikov said.
Hooligan climber
The most famous climber in Russia is Yury Lishaev, known as Fantik, who suffered an injury that could have ended his life, much less his career. LIshaev began climbing long before he was injured, and in his youth he was called a hooligan climber for his passion for climbing alone.
"I learned from my own experience that such climbing requires the top skills, although it is not an example to follow."
Fantik was a climbing legend – he was the first to climb 20 very complex routes in the Crimea, he climbed in the Caucasus and Central Asia and passed climbing routes in the Czech Republic, Poland and the United States. However, Lishaev's unorthodox style got him in trouble with the Soviet sports establishment, and he was forced to give up the title of Master of Sport in climbing.
In early 1990s, a group of U.S. climbers led by Stacy Allison, the first American woman to climb Everest, came to the Crimea. Lishaev was their guide through the Crimean superroutes, which are ranked in the sixth class of difficulty. As a result, Columbia Pictures invited Fantik to consult on a film it was making in Oregon in 1990. While he was there, Lishaev climbed Hood Peak, the highest point in Oregon, alone.
Inner Everest
Eventually Lishaev began acting and in 1993, he began filming Solo with director Yury Senkevich. "I was flying a paraplane in the Crimea," Lishaev recalled. "Suddenly its canopy folded down and I struck the rocks falling about 30 meters (about 100 feet) down. I survived by miracle!" But his spine was fractured in multiple places Doctors predicted he would never walk again.
For two years, Lishaev struggled with physical therapy and rehabilitation. Step by step, he began to walk. "I returned to a normal life, although not in full, as before. But the main thing is not the top, but the journey to it. It is like climbing my inner Everest. I will move as far as I can but I will certainly keep trying."
"The society I live in implies that I should stay in bed, watch TV and complain that life is terrible," Lishaev said. "But I know for sure that this model is not common for disabled people. In fact, life is bright and no one should fear it even in the most severe conditions."
In May and June this year, Lishaev paddled a kayak along the entire Crimean coast. He spent 26 days at sea and walked 310 miles along the coast. He called the journey Ark of Hope, and made it to demonstrate that even a severe injury is not a death sentence.
All rights reserved by Rossiyskaya Gazeta.