Capturing investments - losing identity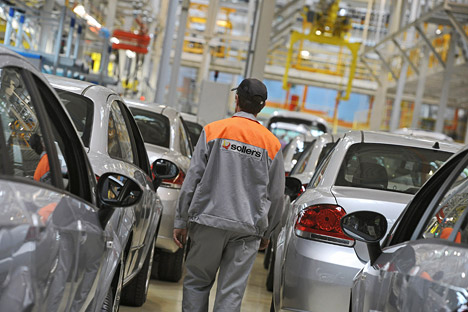 The Fiat Linea production at the Sollers factory based in Russia. Source: ITAR-TASS
Russian automobile manufacturing is thriving, thanks to foreign investment, but it has lost a little of its identity along the way.
On one hand, the Russian car industry is demonstrating rapid growth: foreign manufacturers are building new plants in the country and a market for spare part suppliers is developing. On the other hand, Russia's automotive industry is losing its identity – Russian-made cars are being equipped with foreign engines and designed by foreign specialists; only the brands remain.
Today, the Russian car industry does not only mean brands like AutoVAZ, GAZ, UAZ or KAMAZ, it also includes Hyundai and Renault, which not only assemble cars in Russia, but also make molds of body parts. Then there is General Motors, which produces dozens of models in the country at various plants, including joint ventures. The Russian auto industry also includes Ford, which is planning to produce 300,000 cars in cooperation with Russia's Sollers and to start producing engines in the country.
The state's role in developing Russia's new car industry should not be underestimated: high customs duties for cars and state programs to encourage this sector were introduced. Although it is less profitable to produce cars in Russia compared even to other countries of Eastern Europe, the potential of the Russian market is huge. Russia is already the largest market in Europe in terms of sales, and the low rate of car ownership means that this market can only grow.
Additionally, foreign companies will not lose profits from car production after Russia joins the World Trade Organization (WTO). Companies producing autos in Russia will continue to receive additional advantages in the years to come. After Russia's WTO membership comes into effect, a car disposal fee will be implemented to protect local car producers from a flow of both used cars from Europe and new foreign-made cars. In addition, the state plans to compensate the losses producers will suffer due to customs duty reduction through direct subsidies in seven years, when the reduction of customs duties will be completed.
Russia is also a direct entry point for foreign car producers to the markets in the former Soviet republics, since cars produced in Russia can be brought into many CIS countries duty free. However, outside this space there is no real market for Russian-made cars, given the country's size and problems with logistics.
The pure Russian auto industry is choosing what may be the path of least resistance, allying with foreign auto producers. AutoVAZ now belongs to the Renault-Nissan Alliance, and as a result, foreign-made platforms, engines and other parts will be used in new Lada models. Even GAZ, one of the most independent car companies in Russia, has unified its assemblies with foreign manufacturers to produce diesel engines for Gazel cars as well as transmissions and suspensions. GAZ also houses a production facility for foreign concerns: Skoda cars are being produced there, and production of Volkswagen and Chevrolet cars and Mercedes-Benz commercial vehicles are to follow soon.
UAZ, which belongs to the Russian Sollers company, is also oriented mainly at using spare parts from foreign producers, and a new generation of UAZ cars can be mounted on foreign-made platforms.
Only the Russian brands will remain.
Alexei Aksenov is head of the auto section at the BFM.ru media portal.
All rights reserved by Rossiyskaya Gazeta.