Pavlovsky Posad shawls: more than just pretty patterns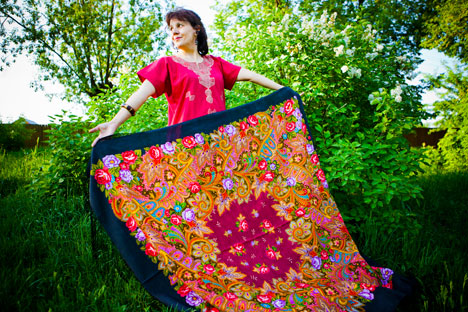 More than 600 types of shawls, kerchiefs and scarves, both for men and women, are produced, using 2000 patterns. Photo: Kirill Lagutko
Any tourist to Russia has searched through stacks of Pavlovsky Posad shawls looking for the right pattern, but the factory itself has an interesting history worth exploring.
The Pavlovsky Posad shawl factory is an exception to the rule for Russia: it is more than 200 years old, having survived the Russian Revolution and civil war, two World Wars and perestroika. The factory's official founding year is 1795, which is when Ivan Labzin, a farmer from the village of Pavlovo founded a small workshop for producing silk shawls. At the time, it was one of more than 70 small factories in the Moscow Region. Since then, woolen shawls and silk kerchiefs from Pavlovsky Posad have been an important part of Russia's cultural heritage.
The factory's longevity might be attributed to its ability to adapt and change with the times. In 1860, under the leadership of Ivan's descendent Yakov Labzin and his assistant Vasily Gryaznov, the factory adopted modern methods of production, printing patterns onto the shawls. In 1869, Vasily Gryaznov died and until the October Revolution the factory was run by descendents of both the Labzin and Gryaznov families. By the beginning of the 20th century, Pavlovsky Posad was the largest producer of shawls and silk kerchiefs in Russia. After the 1917 October Revolution, the factory was nationalized. During World War II, the factory kept working, but instead of making printed shawls, it produced fabrics for the Red Army. Life during the war years was difficult, but the factory's biggest challenge was yet to come.
The Pavlovsky Posad shawl factory in figures:
- 56 miles: distance between Pavlovsky Posad and Moscow

- 60,000 people: Pavlovsky Posad's population

- 10 hectares: territory belonging to the factory

- 100 percent: the factory's private capital

- 600 employees (Before the October Revolution of 1917, there were 4,500 employees, and 2,500 during the Soviet era)
"In Soviet times, we had no competition, but in the current market economy conditions, including competition from cheaper alternatives from Eastern Europe, we had to introduce some alterations and gradually upgrade the production, largely thanks to the state support and subsidies for the craft industry. Now we use Italian-made lines of printing machines," said Deputy Director Vyacheslav Dolgov. "Our enterprise has a complete production cycle, except for sheep breeding." At present, the Pavlovsky Posad shawl factory is the only textile factory in Russia that produces both the fabrics it works with and the end product.
- 1,000,000: the total number of shawls and kerchiefs produced annually (20,000,000 shawls and kerchiefs were produced in the Soviet era)

- Designers create new models every two months

- 80 percent of all sales are concentrated in Russia, 10 percent in Turkmenistan and 10 percent in other countries, including Europe.
Dolgov notes one other way the factory has embraced modernity: "We sell our products through our Internet site as well: over 200,000 people used this option to buy our shawls. There is a forum on the site, which enabled appearance of virtual communities of shawl fans: women of different ages, who constantly buy shawls, exchange the latest news and give us advice. We are especially happy to see young girls wearing our shawls. It means that we managed to conquer the prejudice that shawls are made solely for elderly women," he said.
Pavlovsky Posad shawls are always visible on Russian Orthodox women on their way to church, and not just because they are attractive. Vasily Gryaznov is actually an Orthodox saint.
"Vasily Gryaznov was not only a forward-looking manufacturer, but also a very charitable person," said Dolgov. "The decision on his canonization was taken before the 1917 October Revolution but implemented only in 1999, 130 years after his death. Although the enterprise is secular, protection of this great person is felt till now. Probably, it is his presence to be thanked for the fact that our products are sold well in the Orthodox world, transmitting a magic aura of our factory to Orthodox women through our shawls."
All rights reserved by Rossiyskaya Gazeta.