A Scottish exhibit pays tribute to the Empress who loved art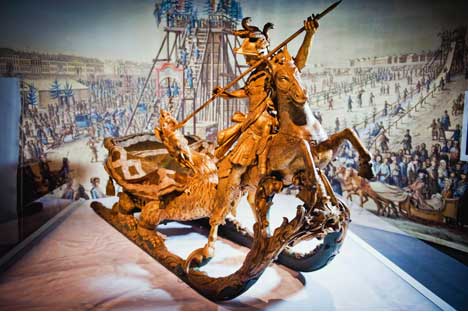 The State Hermitage Museum in St. Petersburg, once founded with the art collection of Catherine the Great, has loaned a fabulous selection of art and artefacts to Scotland's National Museum for a new exhibition about Catherine.
Under the subtitle "An Enlightened Empress," this beautifully curated selection of portraits and porcelain, gowns, guns and a golden sleigh claims to be "the greatest collection of treasure from Russia ever seen in the U.K."
Cooperation between the National Museum and the Hermitage stretches over the past decade. The current show, in a newly opened space, took nearly four years to plan. Some of the pieces, like a shining coronation portrait, have been retrieved from the subterranean Hermitage storerooms and restored for the exhibit.
There is a strong sense throughout of Catherine's personality. The "rules" for behavior in the informal Small Hermitage palace insisted that, "orders of precedence and haughtiness shall be left at the doors." The empress was a great patron of the arts, but had decided preferences. She disapproved of a sentimental portrait of her granddaughters by the fashionable Elizabeth Louise Vigée Le Brun. Catherine said it made the princesses look like "pug dogs" or "repulsive little French peasant girls."
The museum's Communications Officer, Bruce Blacklaw, explained that the idea was to show the empress as "a multi-faceted person" and to tell "as much of the story as possible": the art collector, correspondent of Voltaire, lover of Potemkin, writer, rider, educator and ruler. "The curator was also keen to bring out her sense of humor as a person," he said, "and show that her reign was not just battles."
Besides a chronological survey of Catherine's life and legacy, the exhibition highlights themes like art and architecture, war, or the imperial court, as well as the numerous historic links between Russia and Scotland. The neoclassical Scottish architect, Charles Cameron, worked on the palatial complexes and furniture at Tsarskoye Selo and landscape designer, Adam Menelaws, created garden pavilions in the park.
The exhibition contributes to a distinctly Russian theme at the Edinburgh Festival this year: circus, ballet, experimental theatre, literature and music from Russia are all part of the lively international mix in Scotland's capital. The exhibition about Catherine the Great is a suitable centerpiece for a cultural capital, celebrating a woman who understood, in the words of the Hermitage's director, Mikhail Piotrovsky, "that the greatness of her country was not only about a potent army and sound economy, but also about the prosperity of art and science."
The exhibition is opened till 21 October 2012, Exhibition Gallery 1, Level 3, National Museum of Scotland
Adults £9, youth 12-15 years £6.00, child under 12 years free.
All rights reserved by Rossiyskaya Gazeta.