Outrageous candidates bring excitement to regional elections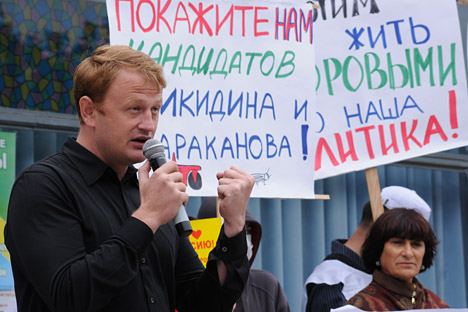 Former police Major Alexei Dymovsky wanted to run for a seat a seat in the Krasnodar regional parliament before changing his mind. Source: RIA Novosti.
What do a boxer, a bartender and sexy lingerie vendor have in common? They are all candidates for local legislatures in Russia.
Elections will be held in Russia this year on Oct. 14 and the races promise to be interesting – not necessarily for political reasons, but because of the personalities who have registered to run for regional office. For example, United Russia's electoral list for state council in the Republic of Udmurtia includes Envil Kasimov, who is currently a local legislator representing the Liberal Democratic Party of Russia, and is notorious for his controversial ideas. For instance, in February 2011, he wrote quite earnestly on his Facebook page that he wanted to become a woman – for the reason that women can retire at 55.
Those who know him say Kasimov can come up with a new idea of this sort a couple of times a week, but joining United Russia will likely put a damper on his fertile imagination. While shocking statements are the norm for a member of the Liberal Democratic Party, they are inexcusable coming from a member of the ruling party. "If I become a member of the United Russia faction, I will naturally be bound by party discipline," Kasimov said, and he has promise to run a campaign based around the preservation of national culture.
While Kasimov has been involved in politics before, many candidates seem not to be interested in governing at all. Andrei Pelipenko, 27, a bartender at an art-café in Saratov has nominated himself for the Saratov regional Duma, and Alexander Kurochkin, a 23-year-old owner of an online shop selling sexy underwear, has nominated himself for the Chelyabinsk city Duma, trying to impress local voters with promises of releasing a line of party logo panties, and even of showing up for an interview wearing nothing but elephant briefs if he is elected.
Meanwhile, judging from the banners of the All-Russian People's Front set up by Putin and the pro-Kremlin movement Young Russia on his website, the young man seems to have mastered the basics not only of self-promotion, but also of building a political career. He also does not hesitate to speak bureaucratese. "I want to work for the people," Kurochkin said. "My primary wish is not to be indifferent to the life of our people."
Professional boxer Vasily Zhukov, 31, plans to run for the parliament of the Khanty-Mansiisk Autonomous Region in the upcoming election as a member of the Communist Party of Russia. "First, I joined the Just Russia party, but when I saw that it was not about justice, I quit and joined the Communist Party," Zhukov said. When asked what made him run, Vasily answered with a frankness typical only of beginning politicians: "My fellow party members advised me to, so I did." Yet he does not feel any particular inclination towards politics. "It's much simpler in the boxing ring. You have an opponent and you need to win. The political ring is meaner. It has many hidden dangers." Meanwhile, he hopes to do good if elected: "We could deal with sports issues. I am not comfortable with Russia's fourth place in the Olympics [medals table]."
Most candidates for the Vologda city Duma put "temporarily out of work" in the occupation column. One of them, Vitaly Burenkov, admitted that he is actually a businessman working in the timber industry. "But I thought it would be better for the safety of my business if I were listed as temporarily unemployed," he said. Burenkov is also a conspiracy theorist, a human rights activist who has set up a charity fund to help pensioners and veterans, as well as a supporter of presidential candidate Mikhail Prokhorov. His reasons for running for the city Duma are purely educational. Burenkov, 24, wants to master the fundamentals of the political struggle in order to win the next election. "I am running this time to get an understanding of how the system operates, how to submit the documents, how to campaign and structure my election campaign in general," Burenkov said.
Alexei Dymovsky, formerly employed by Interior Ministry forces in Krasnodar, became famous locally after videos exposing corruption within law enforcement were made public. He was slated to run on the united opposition list, which brings together several parties including Yabloko, the Republican Party of Russia Parnas, Democratic Choice, and Solidarity, for the legislative assembly of the Krasnodar Region. He later withdrew his candidacy after the flooding in Krymsk because, in his words, "I realized it was pointless."
"The people didn't need that. This civilization is going down a blind alley. All most people have now is animal instincts and no-one cares what is going on at their neighbor's," Dymovsky said.
When asked whether he became disappointed in the opposition, Dymovsky responded that he had always been "for the people, rather than some parties." "Were I ever to join any of the parties, I would not go to Yabloko. I like nationalist parties better," Dymovsky said.
However, Andrei Rudomakha, chairman of the Krasnodar division of the Yabloko party rememberedn the circumstances differently. Accordingt o Rudomakha, Dymovsky merely failed to submit all the required documents on time. The forgotten hero is now working as a legal adviser and running a small business. "I cannot tell you what kind of business it is, because they will immediately levy taxes, and I am not paying any taxes to the current government," Dymovsky said. Such illegitimate practices are hardly acceptable, even for the opposition.
First published in Russian in Moskovskie Novosti newspaper.
All rights reserved by Rossiyskaya Gazeta.