Suicide blast kills sheikh, aims to shatter peace in Dagestan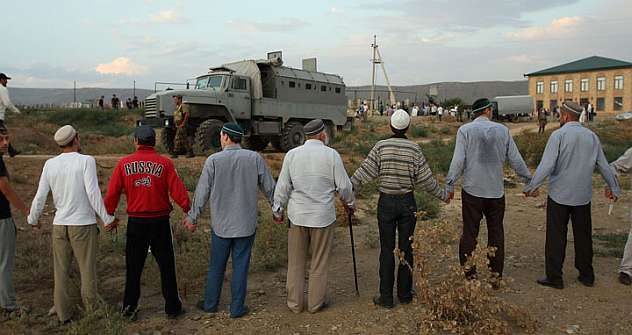 Funeral of Dagestani Muslim spiritual leader Said Afandi. Ruslan Alibecov / RIA Novosti.
Experts say the new attack may have targeted religious peace in the country.
On Aug. 28, a female suicide bomber killed Sheikh Said Afandi al-Chirkavi, 74, who was a local spiritual leader with tens of thousands of students in Russia's Republic of Dagestan. One version of events suggests that the blast was meant to disrupt consensus between various Islamic movements, which were actively promoted by Said Afandi.
The blast took place in the village of Chirkei, Buinak district, at around 5:00pm, at the home of Dagestan's most influential sheikh. According to sources, a female suicide bomber entered Sheikh Said Afandi's home disguised as a pilgrim and detonated an explosive belt around her waist. An investigative committee reported that the bomb was not very powerful, but wound up lethal because of its strike elements. The bomb exploded a few meters away from its target. Said Afandi al-Chirkavi, who would have turned 75 this October, was killed instantly.
In addition to the sheikh, six of his followers were killed by the blast – four pilgrims, the sheikh's spouse and a 12-year-old boy who came to Sheikh Said Afandi's home with his parents, were killed instantly. Several worshippers were injured, as well.
A few hours after the explosion in Chirkei, people began gathering from all corners of the region to share their grief. Eyewitnesses reported people crying in Dagestani cities and villages near and far, soon after the news of the sheikh's death spread across the country. By 9:00pm that day, an estimated 80,000 people had gathered around the local mosque and cemetery for the funeral of the spiritual guide.
Said Afandi al-Chirkavi was a popular, respected Sufi Muslim leader. Sufi Islam is also called "traditional Islam" in Dagestan, unlike Salafism, which was formerly known as Wahhabism. In addition to ordinary Muslims, influential Dagestani politicians visited Said's home in Chikrei for their wirds (a mission that the sheikh assigns to his murid). Analysts contend that the murder of such a prominent public leader could have extremely adverse effects on the country, which has recently found itself on the brink of civil war.
Investigators are certain that the murder was inspired by the so-called "forest people."
"Leave these forests to wild beasts and get back to the human environment!" Sheikh Said Afandi once said in an address to insurgents at the Dagestan People's Congress in 2010.
"Wahhabites are the people that convince those around them that their words are truthful, but in reality their acts are wrong. Beware of them, if you want to sincerely hold to the Islamic path! They may be good at lauding the followers of the Prophet, but they fail to follow him," Said Afandi claimed in numerous sermons.
"Why leave into the forest? I guess it's for the lack of rational mind and common sense. They don't say without a reason that little wit in the head makes much work for the feet. As a result, they kill and they get killed! The Prophet said: "They will treat you the way you treat people!" God guides people against them the way cats hunt mice," said Sheikh Said Afandi.
"The death of the spiritual parent of so many people living in Dagestan is a terrible grievous loss," Dagestan State Duma member Rizvan Kurbanov told Kommersant. He remembered the sheikh telling him once: "If a person walks into my home to kill me, I won't move. Why should I be responsible for his blood in the afterlife? He should be responsible for mine!" Sheikh Said Afandi used to comment on such suicide killers: "... These people hope to get to heaven. They won't get close to the edge of it to feel its fragrance."
Investigators are inclined to believe that the murder was aimed at frustrating the shaky accord between the Spiritual Department of Muslims and the Salafis, which was blessed personally by Said Afandi al-Chirkavi. Likewise, it is possible that the terrorists wanted to encourage thousands of the sheikh's students to take up arms. One way or another, the assassination of the well-known spiritual leader may further escalate tensions in Dagestan, which had already been far from peaceful as of late.
This article can be read in the original Russian in Kommersant.
All rights reserved by Rossiyskaya Gazeta.