Employing soft power in the West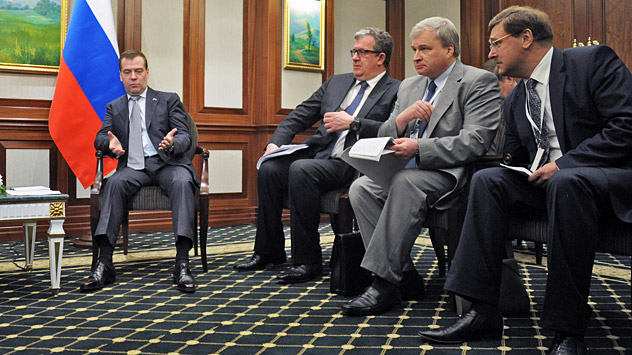 At the opening of the Rossotrudnichestvo meeting, Russia's high-ranking officials were united in the opinion that reforms are necessary for improving the country's image abroad. Source: Kommersant
Russian authorities struggle to improve its image abroad
On Sept. 3, a two-day meeting of the heads of Rossutrudichestvo's international offices commenced in Moscow. The agency was called upon to take on the responsibility of conducting Russia's soft power politics, which the Kremlin hopes will improve the image of the country abroad.
However, Rossotrudnichestvo representatives were divided on exactly how to go about this, suggesting everything between the recreation of Soviet-style propaganda structures and the employment of a public relations firm.
Rossotrudnichestvo was created in 2008 by a presidential decree of then-President Dmitry Medvedev. The agency was intended to be an equivalent to USAID, the federal, American agency engaged worldwide in matters of international development.
Today, Rossotrudnichestvo has 59 cultural and scientific centers in operation all over the world, and, the agency plans to open 35 more by the year 2015.
A recent gathering of representatives from Rossotrudnichestvo - an organization also known by its full name, The Federal Agency for the Commonwealth of Independent States, Compatriots Living Abroad and International Humanitarian Cooperation - was headed by Konstantin Kosachev, the former head of the Duma Committee on International Affairs. Kosachev plans to both shorten the organization's name and widen its authority and budget.
At the opening of the meeting, high-ranking guests such as Prime Minister Dmitry Medvedev, Foreign Minister Sergey Lavrov and Minister of Culture Vladimir Medinskiy were also united in the opinion that reforms are necessary for the agency. Kosachev did not reveal any detailed plans about the reorganization of the agency, but the gist of change was immediately clear: Russia plans to begin actively using soft power, and Rossotrudnichestvo will be charged with conducting these new politics.
The position of "soft power"
According to Prime Minister Dmitry Medvedev, one of the most important mechanisms for attracting foreign investment is the promotion of Russian linguistic and cultural values abroad.
"The reasons for under-investment are related to the image and reputational loses that we carry. And we don't need to downplay these problems: they exist," Medvedev said.
The Prime Minister twice emphasized that, "Russia has comparative advantages in basic science and education," but currently, Russia's humanitarian presence in the world does not match its capabilities.
Dmitry Medvedev explained to the assembled delegates why this move is important.
The Prime Minister noted that everything concerning Russia's hard power (i.e. military power) is order, before admitting that the country's soft power (ability to achieve desired results on the basis of general appeal) is in far worse shape. According to the Medvedev, a country's image also has value.
"There were instances when projects in which Russia participated‒ even those as significant as the 'Nord Stream'‒ were hindered merely because they were warily received by societies of this state or another," Medvedev said.
Still, participants at the meeting were unable to come up with a unified plan for the improvement of Russia's image abroad. Medinskiy suggested broadening tourist activities abroad, while Lavrov advocated inviting more foreign students to study at Russian universities on scholarship. Even more exotic ideas were put forward.
Igor Ivanov, former head of the Ministry of Foreign Affairs and current head of the Russian Council of Foreign Affairs, proposed that Rossotrudnichestvo create a department of propaganda that would‒ as in Soviet times, but with updated technologies‒ "be engaged 24 hours a day with the clarification of the Russian position on current international issues."
Many of those in attendance reacted quite positively to the proposal from Ivanov. Although, deputy director of the television channel "Rossiya" Sergey Brilev expressed the opinion that a more effective option would be to hire a well-known public relations firm for the job. Other delegates promoted the idea that more work should be done on social networks.
All of these outwardly different ideas shared one thing in common — an absolute confidence in the idea that one has only to properly explain to foreigners what is going on in Russia in order to begin rapidly improving the country's reputation.
First published in Russian in Kommersant Daily.
All rights reserved by Rossiyskaya Gazeta.