Russia keeps calm despite the crisis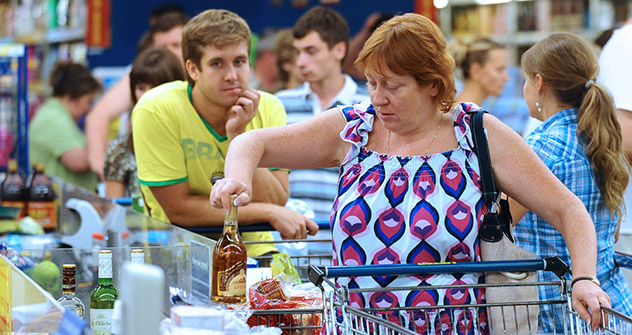 No fear: most Russians are not preparing their family budgets for trouble as the second wave of the crisis looms. Source: ITAR-TASS
Economic experts predict that a second wave of the financial crisis is about to hit Russia, but most people do not expect widespread job losses or pay cuts.
While more than half of Russians (56 percent) are expecting a second wave of the financial crisis to hit their country, they are not frightened by the prospect, according to an opinion poll by Romir Holding. Most of those surveyed believed economic turmoil would lead to price rises and lower living standards. But they don't expect mass redundancies or pay cuts.
More than 70 percent of respondents are not preparing their family budgets for economic trouble, while a third don't intend to make any changes to their budgets even if the crisis strikes.
Just a year ago, almost half of Russians believed a crisis would cause prices of all goods and services to rise but this has fallen to 23 percent. Likewise, far fewer citizens think that staples will become more expensive (6 percent compared with 26 percent), expect salary cuts (6 percent now compared with 21pc), or fear mass redundancies (4 percent compared with 18 percent). More people now feel confident that a crisis will not have any impact on their lives (6 percent compared with 2 percent last year).
"The number of those who expect a crisis has risen by almost 20 percent since 2010; the people, of course, are no experts, but collective wisdom still exists, and if they feel something, there must be a reason for it," Romir president Andrey Milekhin pointed out. Referring to the lack of concern about a crisis, he added: "We have seen so many revolutions, disasters, wars and famines in the past 100 years that we've become quite adept at handling financial misfortunes.
"This time around, people think the probability of a crisis is higher, but they believe it will be milder than the last one [in 2008]," said Oleg Zamulin, dean of the faculty of economics at the Higher School of Economics. He thinks people's expectations of what economic turmoil might look like are misguided. "If anything, prices won't go up – it's incomes that will come down, people will start losing their jobs, and their wages will be cut," he noted.
Yet only 23 percent of those polled were preparing for a new wave of the crisis. Keeping savings in a foreign currency was the most common protection strategy (used by 9 percent) and, according to Romir experts, the preferred method of those with high incomes. Others are preparing for the crisis by stocking up on food (5 percent) or durable goods (5 percent).
According to the Deposit Insurance Agency, Russians have been depositing 5.3 billion roubles every day since the beginning of the year, 30 percent more than in 2011. Total deposits have risen by 8.1 percent in the past six months (to 962 billion roubles).
The remaining 77 percent of respondents are doing nothing to protect themselves from potential economic problems. Igor Nikolaev, director of FBK's strategic analysis department, says this may be partly because attributed to several factors including the fact that Russia was not hit too hard by the first wave of the crisis in 2008. It may be also be because "the majority can't afford to save".
"This raises the question of how much people really trust the state," said political scientist Iosif Diskin, a member of the Civic Chamber. He believes that this time Russians are confident that the government will ensure they "don't feel the pain".
Economic experts warn, however, that a new crisis is just around the corner, and the economy could start faltering as early as this autumn. According to Yevgeny Nadorshin, chief economist at JFSC Sistema, parts of the Russian economy are worsening. "Our investment is basically stagnating and manufacturing growth has slowed down to less than 2 percent annually. Growth is now mostly driven by public and private consumption, in particular by households that are borrowing – but this is not a solid base for long-term growth," he said.
"The financial sector faces the threat of the economic situation taking a sharp downturn, which will have a significant effect on banks' capital," warned Oleg Vyugin, chairman of the board of MDM Bank. "But this is still a fairly abstract picture, because the worse the global situation gets, the more monetary incentives financial regulators such as the Fed and the ECB use," he said.
Russia's federal budget was another weak link in the economy: "If oil prices actually fall, the budget will lose a lot of revenue, and this will come as a shock for the entire economy," Mr Vyugin said.
First published in RBC Daily. V. Khamraeva, M. Maksimova, A. Reznikova contributed to writing the article
All rights reserved by Rossiyskaya Gazeta.