Human-rights organizations to boycott new law on NGOs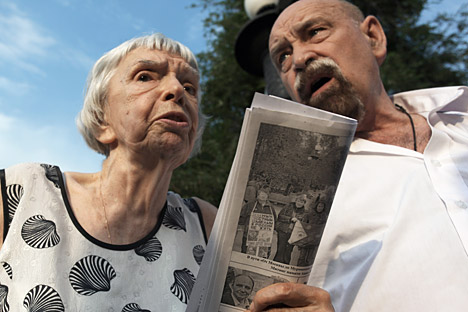 Lyudmila Alekseeva of Moscow Helsinki Group: We are not foreign agents and we have always been open and honest with our state and with our nation. Source: Kommersant
Two of Russia's oldest human-rights organizations have announced their intention to boycott a law on "foreign agents." Duma deputies have said that non-compliance with the new federal law could result in the forcible closure of organizations.
A number of Russian human-rights activists have declared that they will refuse to cooperate with a new law targeted at NGOs. Izvestiya was informed of this decision by the leaders of several large non-commercial organizations such as Memorial and the Moscow Helsinki Group (MHG). The activists intend to protest the law that obliges all organizations that receive funding from abroad to declare themselves as "foreign agents."
Alexander Cherkasov, head of Russia's largest human-rights organization, Memorial, has said that he has no intention of accepting the status of foreign agent, and that he will refuse to cooperate with the new laws passed by the Russian parliament.
"Firstly, we don't consider ourselves to be 'foreign agents,' as they have chosen to describe us. Agents carry out some sort of task in exchange for money, but we don't do this. In their wisdom, our legislators have decided to spend their time coming up with ridiculous schemes, as if they don't have enough real problems to be dealing with, but we are not going to cooperate with their absurd decisions," said Cherkasov.
NGOs such as Memorial an MHG also intend to refuse to pay any fines, which they could face if they do not observe the new regulations. According to the Memorial director, organizations can have fines imposed on them— but whether they actually have to pay them is another matter.
Cherkasov claims that the law has not been thought through properly; he believes the meaning of the word "agent" has been skewed and the idea of "political activity" has been understood very loosely.
Lyudmila Alekseeva, as head of the Moscow Helsinki Group, supports Cherkasov's decision and confirms that, despite the threat of fines, her long-established human rights group will also refuse to register as a foreign agent.
"We do not think of ourselves as foreign agents, and we are not foreign agents. We have always been open and honest with our state and with our nation, so we find it very offensive that they are trying to label us as some sort of agent and threatening us with fines," said Alekseeva. "We receive grants from abroad and spend the money on defending human rights – our job is to help people in need, and that is all there is to it. So their labels mean nothing at all. We would only turn down foreign grants if we were threatened with closure, and then we'd have to survive on Russian aid; but at the moment funding from Russia is very scarce."
About the NGO law
In July 2012, amendments to the law on NGOs were approved by the president. They exclusively concern politically active organizations that are financed by bodies outside of the Russian Federation. According to the new regulations, NGOs that fall into this category have to officially register themselves at the Ministry of Justice on a separate list and accept the status of "foreign agent." These "agents" will also be obliged to indicate their status on all of their printed materials— i.e., all of their publications must be marked with the word "agent." If organizations do not comply with these rules, then the leaders of these NGOs risk having to pay substantial fines; criminal charges may even be brought against them, which could entail a prison sentence of up to four years.
The man who introduced these controversial amendments to the law regarding NGOs – State Duma deputy Aleksandr Sidyakin – has maintained that the human-rights organizations Memorial and MHG could face closure if they insist on sabotaging the law.
"With the introduction of fines, the new regulations are now very clear. Representatives of human rights organizations should understand that this is a federal law that must be respected. If they decide their budget can stretch to pay the 1.5 million rouble (near $47700) fine, then that's great– they can go ahead and pay; but they shouldn't forget that, once they have paid a few fines, they may be accused of flagrant non-compliance with a federal law. And, according to the current rules, this could constitute grounds for the forced closure of the organization," Sidyakin said.
Memorial and the Moscow Helsinki Group are the biggest and oldest human-rights organizations in Russia – both were founded when the Soviet Union was still in existence.

First published in Russian in the Izvestia newspaper.
All rights reserved by Rossiyskaya Gazeta.