Russian Wave engulfs London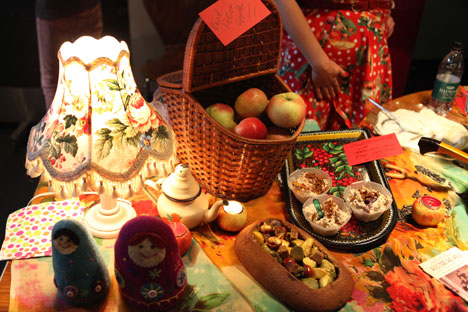 Having had their fill of books and film, visitors could head out to the terrace by the Thames to relax and sample the delicious Russian food on offer. Source: Nicolai Caraghioz.
On Sept. 16, Academia Rossica organized a day-long celebration of Russian culture at the Riverside Studios in London. The event show-cased the best of contemporary Russian film, art and literature against the very British backdrop of the Thames riverbank in Hammersmith.
Between 11a.m. and 11p.m., thousands of Londoners dropped by for what Russians call khleb i zrelische (refreshment and something to see), and the varied program catered to all tastes and age groups. Academia Rossica director Svetlana Adjubei described the event as "essentially a spontaneous meeting of friends, who have gathered to sample the latest in Russian film, look through newly published books, and generally­­ immerse themselves in Russian culture."
Visitors were welcomed by ladies in traditional Cossack costume before being ushered into a noisy, colorful hall full of Russian cultural and culinary attractions. Guests were free to wander around the stands, peruse the numerous art and souvenir stalls, or even have their portrait painted. At lunchtime, while sipping wine and admiring the view over the Thames, visitors were treated to a live poetry reading by David Marks, president of the Russian-English toastmasters' society.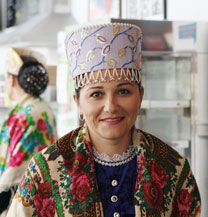 Source: Nicolai Caraghioz.

Another highlight was an iPainting demonstration by young Russian artist Nadja Ryzhakova. Her 'paintings' are in the classical impressionist style, but are created using an iPad rather than a traditional brush and canvas. iPainting allows the artist to record and display the actual process of creating art, rather than just the finished product, and over the course of the day many visitors stood mesmerized in front of an exhibition screen as finished works evolved and took shape before their very eyes.
The bookstand was one of the most popular attractions, and was almost stripped bare by mid-afternoon. The selection of titles was unusual for London; while traditional big names such as Ivan Turgenev and Leo Tolstoy were present, the main focus was on works that have appeared over the past decade.
Similarly, the cinema program featured Russian films released over the past five years, and the variety of genres ensured there was something for everyone – from popular cartoon Masha i Medved, (enjoyed by both children and adults alike), to more serious, thought-provoking productions such as Pavel Lungin's acclaimed historical drama Tsar (2010), and Oleg Flyangolts's thriller Indifference, which won the top prize at last year's Kinotavr film festival.
The focus of Sunday's event was Russian culture as it is today, and the organizers had deliberately chosen a selection of books and films to showcase new talent in Russian cinema and literature, believing contemporary Russian culture is somewhat under-represented in the UK.
Having had their fill of books and film, visitors could head out to the terrace by the Thames to relax and sample the delicious Russian food on offer. Classic favorites such as borscht and pirogi, expertly prepared by London's Sobranie restaurant, were consumed in vast quantities. For more adventurous diners the gastro-club Russian Revels had cooked up a magnificent spread of quirky Russian treats such as sweet tvorog (Russian curd cheese) topped with caramelized rye bread, and their signature gold-covered gherkins, as pretty as they were tasty.
London's Russian-speaking community were out in force, with visitors like Sergei, who moved from Moscow 2 months ago, coming for "a taste of home", and Svetlana, who has lived here for 15 years, keen to "keep Russian culture alive" for her children, but many visitors were British. Some were seasoned Russian culture vultures, like London schoolteacher Eileen, who studied Russian 20 years ago and continues to harbor a passion for Russian poetry. Others had come purely out of curiosity; Londoner Tony Wayman thinks there ought to be more events like this: "It's a good chance for ordinary Brits to mingle with native Russians, and it makes you realize there is a lot more to Russia than vodka, bad press and strained diplomatic relations," Wayman said.
All rights reserved by Rossiyskaya Gazeta.