Russian "Turner Prize" Winners unveiled in London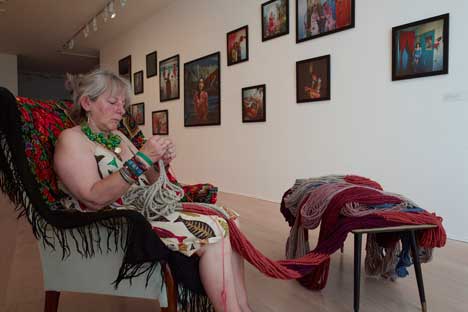 The Russian Art Show 2012, image courtesy Calvert 22, Steve White and the artists
Knitting grannies came to London to share Russian culture.
I am standing in an art gallery in East London watching a woman knitting. She is in an armchair with huge mounds of different-colored wool in front of her and – according to the catalogue – she is creating a Mandelbrot Set, a complicated, fractal shape designed using mathematical code. At the same time she represents an archetypal babushka (or granny), evoking childhood memories and simple nostalgia.
This "knitting and crocheting performance" is included in an exhibition at Calvert 22 gallery featuring highlights from Russia's Innovation Prize, a national competition for contemporary art roughly equivalent to Britain's Turner Prize. The ongoing show includes works by nominees and winners from the past seven years. One and a half million rubles (about $47,000) of prize money are shared annually among artists, critics and curators in a variety of categories. The only obvious omission is the controversial group "Voina," which won the prize in 2010 for a giant penis painted on a bridge.
Specializing in Eastern European art, this not-for-profit venue showcases a range of styles and media. Haim Sokol's miniature cityscapes inside battered zinc buckets and washtubs encapsulate the powerful subtlety of some exhibits here. These works, from a 2008 series called "Foundation Pit" are rewardingly quirky. In "Tower," a headless tin soldier on a metal pillar and bricks of laundry soap stand in a puddle of discolored soapy water. In "City," a tiny figure hangs against the backdrop of tower blocks, painted inside an old pail, perfectly conjuring a bleak, uncompromising, urban scene. Nearby is Sergey Bratkov's black and white film of boys jumping into dangerous water behind actual lumps of twisted wire and concrete debris.
Viktor Alimpiev's "Whose is this exhalation," screened in its own curtained-off corner, stands out among the variety of video installations and recordings of live performances. A choreographed group stands still and starts to hum together, often producing music reminiscent of Orthodox religious chants. One member of the group exhales suddenly and breathes heavily and the others stop, pause and begin again. What makes the film riveting is the barely-discernible relationship between the actors; the impassive expressions and slow-motion gestures of support take on a heart-stopping poignancy.
Artist and architect Alexander Brodsky, best known in the United States for creating a Venetian lagoon out of the Canal Street subway station, won the 2011 prize for visual art. His filmed installation is set in a gloomy industrial space with concrete pillars, which seems appropriate since he also designs sets for the plays of Samuel Beckett. The gallery's next exhibit, opening October 3, will be a solo show by Brodsky with one light room, and one dark room.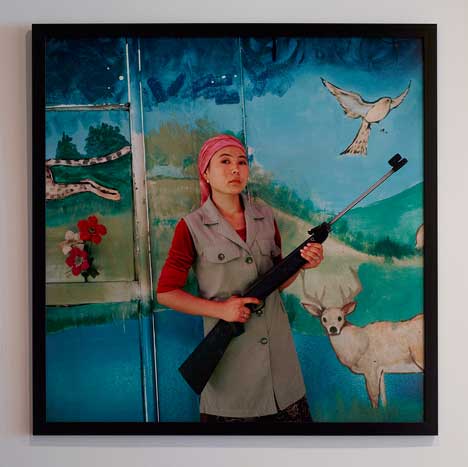 Rena Effendi's House of Happiness. Courtesy of Calvert22 and the artists.
One wall-full of photographs by Azeri artist, Rena Effendi, is called "House of Happiness." The title refers to a registry office; the synthetic idyll of the wedding day is undercut by the women's expressions, often looking straight at the viewer to create moments of unnerving intimacy. Many of the portraits are of Muslim women, wearing the traditional hijab; one holds a rifle, another rests with her newborn baby. These images were taken along an old silk road, now a major route for trafficking in heroin, and often represent the reality of forced marriage and prostitution.
In another corner, a looped video of Andrey Kuzkin plods round and round through wet concrete in a wearying feat of physical symbolism. Downstairs, in a separate exhibition, are cacophonous video-works by Taus Mahkacheva from Dagestan, winner of the New Generation category in this year's Innovation Prize. Makhacheva's work is interesting for the contrast between the visceral content of her videos (Dagestani dog-fighting and archival wrestling documentaries) and the highly cerebral nature of her title, "Let Me Be Part of a Narrative," and intentions, to explore historical and cultural representations.
Tate Modern's curator of International Modern Art, Nicholas Cullinan, will be giving a personal tour of the exhibition on the evening of September 6. A panel discussion on the significance of awards in contemporary art is slated for September 12. The "Russian Art Show" runs at Calvert 22 http://www.calvert22.org until September 16.
All rights reserved by Rossiyskaya Gazeta.