Travelling museum seeks undiscovered talent in Russia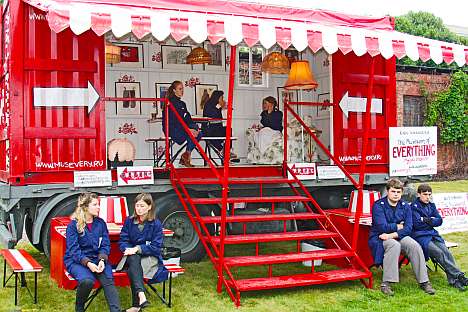 The travelling Museum of Everything, founded by James Brett of Great Britain, has finally reached Moscow after touring Russian cities in search of undiscovered artists.
All photos by Alexandra Guzeva
What used to be the Gorky Central Park of Culture and Leisure has now become the most fashionable haunt of young Muscovites. Even the Garage Center for Contemporary Culture has moved to Gorky Park from the Bakhmetyev Bus Garage, though there is nothing close to a garage on the premises. Still, the museum's staff dresses as car mechanics and huge trucks are packed on to the museum premises, flaunting the signs: The Museum of Everything.
Moscow's Garage is the final destination on The Museum of Everything's Russian tour, being led by the British curator James Brett. Having searched for gifted, self-taught artists across England and Italy for the last several years, the museum has come to Russia to discover unknown Russian talent. For a month, the museum travelled around the country, visiting Ekaterinburg, Nizhny Novgorod and St Petersburg. Brett collected works from artists young and old, painters and sculptors, and writers, as well. "Sometimes, they don't even have any material products of their art: once, all a man brought to us was his philosophy – we had to exhibit that too." Works of art were even collected works from homeless and imprisoned artists for the museum's Exhibition No. 5, in which The Museum of Everything hopes to offer a display similar to those at the Tate Modern and Selfridges art galleries in the U.K.
"One of the reasons for the timing of our visit to Russia is the special atmosphere that now reigns in Russia. People here want to be heard; they want self-expression. It is really interesting whether we will see any protest art: I would love to exhibit such works," Brett admitted.
But it was not the wave of protests alone that lured Brett to the country. For this British curator, Russia is an unfathomable territory, rich in both talent and surprises. "Russians are so hospitable! In Nizhny Novgorod, we came across a few artists who tried to feed us to our heart's content. They would not even let us see their works until we finished everything on the table. We could skip a full week of meals after such meetings."
The Museum of Everything project has proven very popular in Russia. People who yearned to create have now been granted an opportunity to be heard and recognized, where they had no audience before. "In St Petersburg, we were very worried that bad weather would keep people away, but a great many artists came anyway. And James Brett talked to every one of them," Garage Director Anton Belov noted.
Compared to the early 20th century, Russia is still missing a breakthrough in so-called Naïve Art. Russia's only internationally recognized "outsider artist" (artists producing works with little to no formal training) is Alexander Lobanov, who shoots staged portraits and invents a variety of frames for them. Moscow was once the host-city for a museum run by an outsider art group, but this museum has since closed down. Consequently, rare as they are, projects such as The Museum of Everything are extremely valuable for artists who have no other venue for which to exhibit their works.
"It is very difficult to find financing. But, even if we run out of money, we see our projects through; we never give them up halfway," Brett explained. Many museums are short of money now and we cannot expect them to support us. But if people come, if a project is popular, you want to give money. I have already given quite a lot of my own."
Celebrated professionals also view street artists as an increasingly interesting subject of study. Naïve artists bringing their works to The Museum of Everything run into groups of amateur film-makers and directors shooting their films there, at the Garage, or even at Michel Gondry's film factory. The setting is actually tremendously popular and the shooting schedule is full until mid-September. Yet, when asked why the museum does not open until 11 am, with artists and film-makers barely making it in by 1 pm, Maria, a Garage Center worker, replied: "It's too early for art."
The Museum of Everything will gather works from Aug. 30-31and Sept. 1-2, 6-9. Garage Center for Contemporary Culture (Gorky Park, 9 Krymsky Val ul.)
All rights reserved by Rossiyskaya Gazeta.