Foreign experts learn Moscow's technology market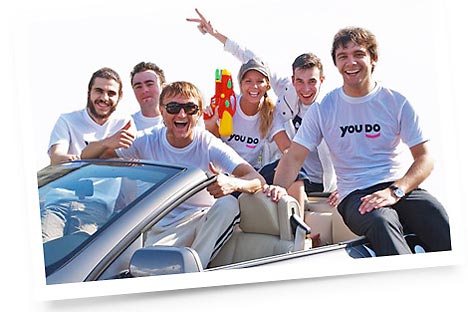 YouDo, a start-up from Moscow, was also among the participants of Moscow Start-up Mixer. Pictured: YouDo staff. Source: Press Photo
Moscow may be the next stop for those who look to invest in Eastern European start-ups.
For start-up investors, Moscow is the new New York – at least that was the consensus of the crowd that gathered at the Russian capitals's Digital October (DO) conference center on Sept. 20 for an event aptly entitled Moscow Start-up Mixer.
More than 300 people, both inventors and investors, came to the event to learn from each other about the technology market in Russia. The mixer was a part of an invitation-only tour for start-ups, investors, and executives called "Geeks on a Plane"(GOAP), organized by 500 Startups, a Silicon Valley–based incubator that provides early-stage companies with up to $250,000 in funding.
Alex Ross, founder and CEO of a start-up called Presentista, came to Russia for the first time with GOAP tour.
"I'm not looking for investors from Russia, and I can't say I am here to sell my project. Rather I am looking to explore developers–for–hire scene," said Ross. "Specialists in Russia usually are as good as American ones, if not better sometimes, only they charge a rate of three times less per hour than in the States. I already have a couple Russian freelancers that work with me from time to time."
Ross's start-up is planning to launch a desktop application that lets users create professional presentations in minutes. Ross says the app will eliminate the need to use Power Point all together.
Digital October regularly hosts programs that bring together top educators and experts from around the world, giving entrepreneurs and investors access to networking opportunities in an informal atmosphere. For the mixer, DO received hundreds of applications from startups from across Russia and the former Soviet republics. Just over 40 companies were handpicked by DO staff and partners for the final list of participants.
One of the lucky few was YouDo, a start-up from Moscow that connects people with jobs to be done with people who are looking for work through a mobile cloud service. The app has two groups of users: a client, who places a work order and indicates the price he is willing to pay for it, and staff, a person who is ready to take on the task for the amount offered. All services are geo-located, so users can see on a map where the task is located and where the help is coming from.
"We only work in Moscow and Moscow region. But we are looking to expand to other cities in Russia and other countries," said Lyudmila Bulavkina, YouDo's partner for business development. "If we get enough finding, we expect to launch the app in the UK next year."
Bulavkina says she likes events like the Moscow Start-up Mixer because they give her an opportunity to show off her product and look for what other companies have on the market. A good atmosphere for networking and learning is always a plus, too.
Another event attendee was Mikita Mikado, CEO of QuoteRoller, a company from Belarus. QuoteRoller sells online proposal software that helps small business owners create, track, and manage sales proposals efficiently. QuoteRoller has clients all over the world – with the notable exception of Russia.
"The culture of making this type of business documents is not that popular in Russia yet," said Mikado. "I enjoy spending time in Moscow. There isn't really a place quite like that near by. Here, I learn different business models, gain insight into local markets, and have fun meeting new people from my field."
Russia Beyond the Headlines will continue to explore the Russian start-up market later this year in a special report entitled «50 Best Russian Start-ups,» developed in partnership with Digital October. The report will be available in both print and digital editions.
All rights reserved by Rossiyskaya Gazeta.