Russian Internet start-ups get $1 billion in investment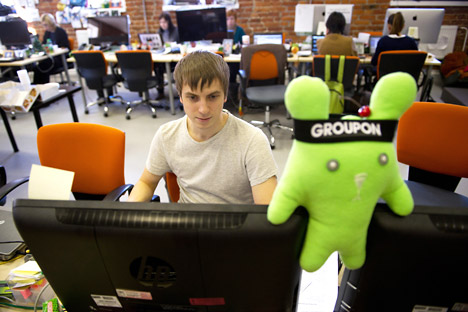 Groupon, Russia's Internet start-up, is qualified as one of the most successful from the point of view of attracting investment. Source: ITAR-TASS
Money is pouring into the Runet, with the bulk of the cash going to start-ups over established companies.
In 2011, Russian Internet start-ups received $1 billion in investment, twice as much as in 2010. In 2011, the number of deals on the Russian Internet market grew by almost 260 percent, to 213, according to a report from the Russian Electronic Communications Association entitled "The Internet in Russia." The report cites data from Fast Lane Ventures, which shows that investment in new companies and start-ups reached $500 million, almost a quarter of the total transactions among Internet companies in Russia. In 2010, only 59 deals were struck and 19.2 percent of the total investment, some $250 million, went to start-ups.
The increase in investment came despite the fact that the market remains opaque; private deals accounted for half the total sum. Experts from Fast Lane Ventures note that the number of confidential deals on the Runet nearly equals that of deals on which information is publicly available. "We know of at least 100-150 seed investments made by business angels and non-public holdings and of 20-30 major investments on which financial information is absolutely sealed," said Andrei Kulikov, senior investment analyst with Fast Lane Ventures. Factoring in these deals, the total investment in Russian Internet companies and start-ups increases to $500 million in 2010 and $1 billion last year.
Analysts note a marked growth of "seed" investments, which increased fourfold in 2011 compared to the year before (91 versus 22). The seed companies received $14.1 million compared with $8.7 million in 2010. In addition, a flow of grant financing, starting from scratch, amounted to more than $20 million, with 61 start-ups on the receiving end. Older companies cannot boast such heady dynamics. Most of the deals involving them consisted of adding teams, purchashing technology or changing shareholders. Only two deals – the purchase of Darberry by Groupon and of Qik by Skype – qualify to be called real success stories.
The value of Russia's Internet market is estimated at $2.15 billion.
First published in RBC Daily.
All rights reserved by Rossiyskaya Gazeta.