Yandex to power Apple's Maps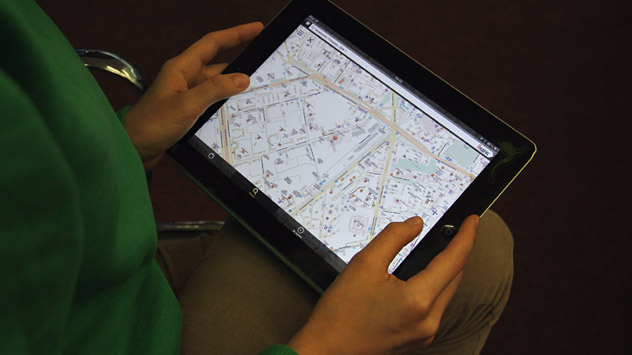 Integrating Yandex maps into the Apple operating system should be considered in the context of the rivalry between two mobile operating systems: iOS and Android, experts say. Source: RBTH
Russian software fans are glowing with pride, while analysts make the most improbable assumptions: the Russian IT giant Yandex has entered into a partnership with Apple and will have its Yandex Maps location service integrated with Apple's new iOS 6 operating system. Still, Yandex spokespeople have yet to comment on the matter.
The main question remains: who stands to gain from this partnership? Apple is one of the biggest companies in the world, and it would hardly "make friends" with Yandex if it saw no benefit in the collaboration. It is a definite plus for the Russian firm, as Yandex will undoubtedly enjoy a global promotion campaign, almost free of charge. Yet, analysts agree that the corporation headquartered in Cupertino, California, will reap the majority of the benefits.
Lead analyst at Mobile Research Group Eldar Murtazin said: "Yandex is a perfect starting block for Apple, which made the momentous decision to remove Google Maps – its longstanding competitor – from its operating system. The only other mapping service that matches Google in terms of quality is Navteq Maps, whose license is too expensive. Apple opted for the open format of OpenStreetMap; but this requires local mapping data. Yandex will be the one to provide these data."
The company's data applies primarily to queries that users enter when searching for specific locations. Searching for a street or lane is one thing, but it is a completely different matter to find a specific location (a bar or a shop, for instance) on that street. Queries are carefully collected and consolidated into a large database, which is designed to store information about the preferences of each user. The databank thereby creates a powerful advertising base that can specifically cater to individual users. Google has been occupied with this process recently, and Apple is eager to overtake its rival in this area. Google relies on its own trademark solutions, while Apple has no solutions of its own and, thus, has to resort to third-party services.
Vasily Prozorovsky, analyst at CNEWS Russian IT Review, said: "Integrating Yandex maps into the Apple operating system should be considered in the context of the rivalry between two mobile operating systems: iOS and Android. The latter belongs to Google, and Apple's eagerness to phase down its cooperation with its competitors is understandable. The company is building – or rather destroying – its relations with Samsung in a similar way. Samsung is Apple's main competitor on the smartphones market and has, until recently, provided it with displays for smartphones and tablets. At this rate, Apple will end up "making friends" with any non-competitor; and companies from Russia, Brazil and so on have a good chance to get into its ecosystem."
There is further proof of this theory: Apple is rumored to have entered into a close partnership with Baidu, China's dominant Internet search engine. It will perform the same functions for Apple in China as Yandex does in Russia – i.e., it will provide unique mapping data for iOS 6 and searches requiring that kind of information. And this is just the beginning, as companies from India, Brazil and other developing economies are ready to follow suit. The situation is, after all, win-win, since local developers will enjoy international recognition free of charge.
One question remains: what will the corporation from Cupertino do with its numerous international partners once it has collected the data required to perfect its OpenStreetMap format? This process may be completed within two to three years, according to different estimates. Will the mutual peace and harmony collapse afterward? Only time will tell.
All rights reserved by Rossiyskaya Gazeta.