Yandex launches its browser and Android app store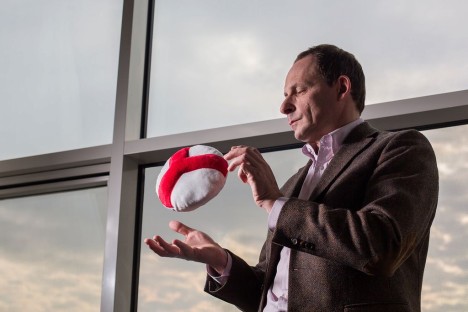 Yandex CEO Arkady Volozh. Source: Yandex.ru / Press Photo
On Oct. 1, Yandex presented its browser and application store at the YaC IT conference, which kicked off in Moscow.
The Russian company is following in the footsteps of Google in a bid to retain leading positions on the national market. According to current data, in July 2012, Yandex was ahead of the game with 60.5 percent of the market, while Google's share totaled 26.7 percent. Still, the American corporation is outdoing its Russian competition in revenue and income growth. Yandex hopes that its new products targeting end users might turn the tables.
The Yandex browser has taken all the best features from its famous counterparts Chrome and Opera: the former contributed the engine and free Chromium shell; the latter provided its Turbo web traffic reduction technology, which is expected to be introduced in upcoming versions of the browser. Additionally, Yandex has promised to update its browser every few weeks.
The traffic compression tool was not the only thing the Russian search engine purchased from Opera. Yandex also bought a software distribution license for 40,000 applications, which enabled the company to open its trademarked Yandex.Store. The digital marketplace will operate globally, featuring a store of software products designed by Russian and foreign developers. Yandex plans to strike a number of deals with smartphone and tablet manufacturers to have Yandex.Store pre-installed on devices, instead of default Google Play. The Russian company has already reached agreements with PocketBook, 3Q and Texet, as well as with one of Russia's "big three" mobile carriers, MegaFon.
In developing its browser, Yandex leveraged its ample experience working on the Russian side of the Internet and previously designed solutions. "Understanding the structure and content of websites, as well as using technologies that only Internet search companies have, helps us create a new generation browser that assists users in everything they do," said Tigran Khudaverdyan, director of software and mobile at Yandex.
This means that users can benefit from Yandex services integrated into the browser: search, e-mail, cloud data storage and a machine translation tool capable of processing words and webpages. The browser also lets users change the default search engine. Apart from all of that, Yandex browser features will include PDF and Flash compatibility, as well as audio playback with no external applications required. The built-in Kaspersky Lab module will ensure protection, and a database of malicious websites will keep users in the know about potential threats.
According to Yandex designer Konstantin Gorsky, the company's browser has the leanest interface on the market: screenshots reveal that it only has a search bar, a tab panel, a Back button and a clickable Yandex logo. The detailed browser development report, which was uploaded by Yandex software engineers to the specialized Russian-language online community Habrahabr, mentions that the user interface will only show the Forward button when there is some destination to which it can lead. The visuals were yet another focus of the company. Yandex software developers stated that 50 different designs were created for the above-mentioned Forward button alone. Most navigation tools are identical to those in other browsers. For instance, when opening a new tab, the user will see the icons of their seven favorite websites.
Yandex already had a shot at launching a browser previously. The company's Yandex.Internet was also based on Chromium freeware but had significantly fewer modifications. The statistics compiled by the Russian web counter LiveInternet show that the company's old browser was only able to secure 2 percent of the national market, with Google Chrome currently on top at 22 percent.
According to Yandex CEO Arkady Volozh, Yandex built the missing infrastructure link to the end user by launching its own browser and application store. The number of search queries directly effects contextual advertising revenues, which are the biggest source of income for search engines. Browsers, of course, remain one of the key search distribution channels.
The "browser wars" have been escalating in Russia: Mail.Ru Group, one of Yandex's chief competitors, also showcased its own browser, Amigo, last week. The product also boasts solid integration with Mail.Ru services, but is still undergoing alpha testing and accessible by invitation only.
Part of the reason Yandex developed its own browser may have something to do with a recent decision taken by Mozilla. In June 2012, the Firefox developer made Google the default search engine for Mozilla's Russian-language installation package. Yandex is still available as an option among other software on both Firefox and Chrome, but most users are traditionally reluctant to change the initial settings.
As for the app store, Yandex will have to compete on an international rather than national scale, as such global companies as Amazon, Opera, LG and Samsung alreeady have their own Android marketplaces.
All rights reserved by Rossiyskaya Gazeta.