KHL has Crosby on its Christmas list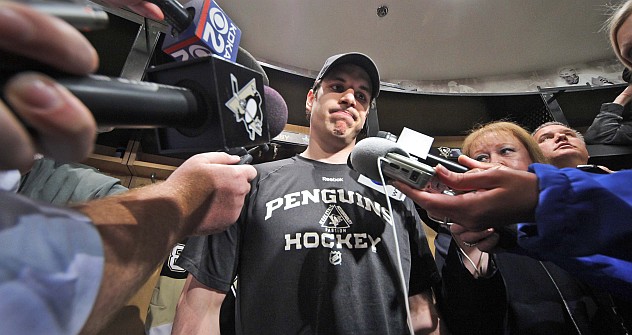 Pittsburgh Penguins hockey star Sidney Crosby (pictured) may play for Russia. Source:
If the NHL announces a lockout before the end of the season, Pittsburgh Penguins star Sidney Crosby is set to continue his career in Russia.
Pittsburgh forward Sidney Crosby could move to Russia if the NHL cancels the remainder of the season. Crosby and his agents have decided to wait until Christmas to make the decision, since the final showdown between the league and the players' union is expected to take place in December.
Last week, the NHL officially announced the cancellation of regular championship games scheduled for Oct. 11-24 – the first 82 matches of the tournament will be scrapped as a result of the lockout. The lockout effectively began on Sept. 25, when the previous collective agreement between the league and the players' association expired.
"I've been in talks with Metallurg about Crosby since September, before the announcement of the lockout," said the player's KHL agent, Gennady Ushakov. "I phoned Velichkin [vice-president of Metallurg Magnitogorsk], who said that he needed to consult with his management team. We got in touch later, and this time Velichkin replied that, if it was true and not a hoax, then a contract could be signed. I passed on the information to my U.S. colleagues, but Crosby and his agents decided to take a timeout."
Ushakov collaborates with one of the largest agencies in North America, CAA Sports. Their clients include Evgeny Malkin, the Sedin brothers, Partick Kane, Jonathan Toews, and other NHL stars.
"If the season is canceled, many of our clients will move to Russia," said Ushakov. "As for Crosby, there will be clubs in the KHL willing to sign him. After Metallurg signed a deal with Nikolai Kulemin, they filled their quota for NHL players. But there are other clubs I can contact about Crosby. Of course, I'm not about to name them just now."
Following the announcement of the lockout, the KHL's ranks were quickly filled out by Alexander Ovechkin, Ilya Kovalchuk, Pavel Datsyuk, and other Russian stars. However, players from other countries have, so far, overlooked the second strongest hockey league in the world. The only exception is Zdeno Chara, Slovakia's captain of the Boston Bruins, who recently signed a contract with the KHL's Lev Prague. There has been an exodus of Swedish and Finnish stars back to their respective homelands, while American and Canadian players have set their sights on Switzerland, despite salaries in the European leagues being considerably lower than in Russian clubs.
Many fans and expert observers had expected all of the league's stars to rush headlong to the KHL. However, not a single U.S. or Canadian player has signed a contract with a hockey club in Russia, where vast riches would seemingly await them. Both Sidney Crosby and Steven Stamkos are staying put for the time being.
"It could be that Crosby and Stamkos are a bit wary or even afraid about going to Russia — but to each his own. If the lockout lasts for a year, I think we'll see some of them over here," said SKA forward Ilya Kovalchuk.
Meanwhile, the first "locked out" Canadian player in Russia is likely to be defenseman Tyler Myers of the Buffalo Sabres. It is not yet clear on which team Myers will star, but a Russian club could certainly match his NHL salary of $5.5 million.
"The Tyler Myers matter will soon be resolved — he's a great defenseman, and I'd call him an NHL star," Ushakov. "I can't disclose the financial details or any other ins and outs. My other clients, Malkin and Gonchar, kept their salaries after their move to Metallurg."
As for Crosby, it is difficult to imagine which club the Pittsburgh star could end up playing for. On the eve of the lockout, KHL president Alexander Medvedev stated that the league's clubs had a maximum quota of three NHL players – many Russian teams have already reached the limit. However, if the NHL season is scrapped entirely, the KHL may consider changing this rule for the likes of high-caliber stars such as Crosby and Stamkos.
---
Russian NHL Players Guide by RBTH will be released soon! The Guide will help the hockey fans know more details about the Stanely Cup playoff season. Readers can download this app in October 2012.
All rights reserved by Rossiyskaya Gazeta.