Biden and Ryan spar over Russia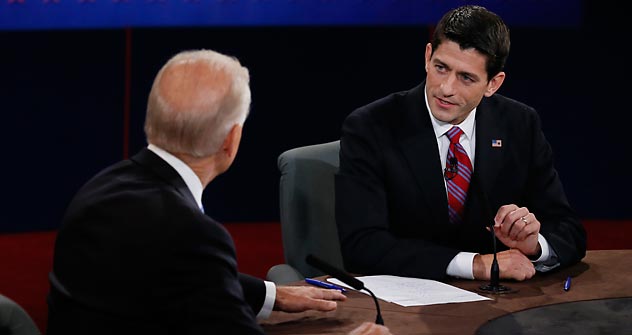 U.S. Representative Paul Ryan: ""We should not have waited for Russia to give us the green light at the U.N. to do something about it [Syria]." Source: AP
Differences in foreign policy highlighted in U.S. vice presidential debate.
Vice-President Joe Biden and U.S. Representative Paul Ryan clashed over Russia during this week's Oct. 11 contentious vice-presidential debate.
The Wisconsin congressman attacked the Obama administration's foreign policy across a broad range of issues, including Iran and Syria, and said the reset with Russia is "not working." He cited Moscow's unwillingness to support the kind of U.N sanctions advocated by Washington and some of its allies.
Biden countered that "the fact of the matter is that Russia has a different interest in Syria than we do."
Biden, a former chairman of the U.S. Senate Foreign Relations committee, is deeply involved in White House decision-making and Foreign Policy magazine wrote recently that "it is safe to say that on foreign policy, Biden is the most powerful U.S. vice president in history save for his immediate predecessor, Dick Cheney."
Ryan confronted Biden a number of times on Russia, charging that the administration was "outsourcing our foreign policy to the United Nations giving Vladimir Putin veto power over our efforts to deal with" Syria.
Mitt Romney's running mate added that, "We should not have waited for Russia to give us the green light at the U.N. to do something about it.
When he was pressed by Biden about what exactly the Romney administration would do differently, Ryan acknowledged, "we agree with the same red line, actually, they (Obama Administration) do on chemical weapons… They're right about that."
There appeared to be no clear winner in the clash between the 69-year-old vice-president and the 42-year-old congressman.
The 90-minute debate was a lively prelude to the second presidential debate between Romney and Obama, which will be held next Tuesday at Hofstra University on Long Island, N.Y. A third debate in Boca Raton, Fl. on October 22 will focus exclusively on foreign policy, and policy towards Russia is likely to be a significant subject of discussion and potential disagreement between the two candidates.
Romney has recently jumped in the polls following a lackluster performance by President Obama in the first presidential debate. The race is neck and neck less than a month before the Nov. 6 vote.
Alexander Gasyuk is Rossiyskaya Gazeta's Washington D.C. correspondent.
All rights reserved by Rossiyskaya Gazeta.