RBTH launches supplement inside The Wall Street Journal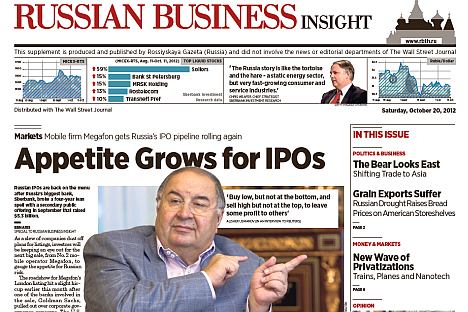 Rossiyskaya Gazeta's Russia Beyond the Headlines debuted its first supplement distributed inside The Wall Street Journal on Oct. 20, 2012.
The eight-page pull-out, titled Russian Business Insight, focuses on business opportunities in Russia and how potential investors can take advantage of them.
The key topics in the first supplement include the re-launch of privatizations following Sberbank's IPO and other upcoming IPOs, hi-tech startups and IT potential, Russia's integration into the Asia-Pacific region and economic dependence on oil.
The supplement will appear once every two months inside The Wall Street Journal in the following American cities: Atlanta, Baltimore, Boston, Chicago, Dallas/Ft. Worth, Detroit, Houston, Los Angeles, Miami/Ft. Lauderdale, Minneapolis, New York, Philadelphia, San Francisco, Seattle/Tacoma and Washington, D.C with a total circulation of 712, 000.
All rights reserved by Rossiyskaya Gazeta.