Yandex invades Google territory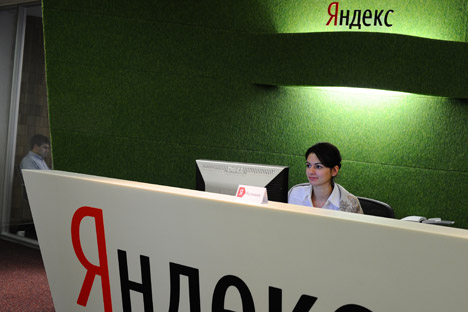 Yandex's performance abroad may just depend on how fast it learns to "recognize" and "index" the mentality of other countries. Source: ITAR-TASS
After a successful initial public offering on NASDAQ, Russia's leading search engine expands internationally from a saturated domestic market.
Yandex has become an internationally recognized brand name, thanks in large part to its public offering on NASDAQ last year. Not only was it the first Russian IPO on an American exchange in five years, but it was also the largest by an IT company in 2011.
Yandex was valued at $8 billion. Investment banks bought 5,217,405 Class A shares at the placement price of $25, only to see the stock soar to $38.85 on the first day of trading. On launch day, Yandex co-owner Ilya Segalovich, encouraged by investor support expressed in price rise and an oversubscribed book, said something he had not dared to say before: that Yandex, in his opinion, is better than Google.
Objectively, Google's relevance and search speed are in a different league. Where Yandex excels is not in the quality of its searches. Its key strength lies in its completely Russian interface and services Russian users find indispensable. Yandex.Market is an online catalog of consumer goods from all over RuNet (the Russian-language Internet), Yandex.Elektrichky serves up commuter train schedules customized to the city where you live, and Yandex.Mail and Maps apps are used by nearly everyone with Internet access. Last month, Apple included Yandex's map software in its iPad and iPhone as standard software.
Yandex's strategy has allowed it to stay well ahead of Google on Russian territory despite stiff competition. Audience monitoring website liveinternet.ru says Yandex has 60.5 percent of the market, Google 26.6 percent, and Mail.ru Group subsidiary Search.mail.ru, 8.1 percent.
In September, Yandex surpassed Google in Russia in terms of queries made on Google's own Chrome web browser. Yandex founder Arkady Volozh announced about a year ago that his company had outgrown the confines of Russia. A country's web space is, basically, as big as its population. Sooner or later the number of users stops growing.
Last year, the company had revenues of about $600 million and grew by 60 percent. This year, it expects 45 percent growth, said Volozh.
So Yandex has decided to expand in emerging web markets.
Long active within the Commonwealth of Independent States (CIS), a regional grouping of former Soviet countries, Yandex has now turned to Turkey as the first step in its international expansion. It is a bold move as Google is Turkey's most popular search engine.
"This is an experiment so far, but we don't rule out the possibility that, if it's successful, we will explore other places too," Volozh said.
Yandex is interested in countries where a single player dominates the market. "It's wrong when the whole world is reflected through a single window," Volozh said.Experts believe the strategy has potential.
"It's too early to say whether Yandex's technology will be able to defeat Google globally, but the company definitely has a shot at places like Turkey, where web search engines are underdeveloped," said Vsevolod Topolyansky, managing partner at Aurora Venture Capital.
Turkey may be the right place to choose to test the waters.
First, it's Europe's largest and fastest growing web market. Second, it's a stand-alone, isolated language segment, which offers an opportunity to develop indexing approaches. Third, testing technology in an unassuming web market makes it possible to identify pitfalls.
Yandex will review the results of its first year of international operations in December. The company hasn't disclosed any numbers, but Volozh says new users have welcomed the company.
"Of course we had to modify the services we offer in Russia, and add many things Turkish users find useful. For example, our Ramadan project offered the opportunity to observe the time of sunset in various regions," adds Volozh.
Some experts have been skeptical of Yandex's policies in "foreign" markets. Operating in an uncharted territory is risky and expensive, whereas they argue that rival Google's one-size-fits-all approach has already been tried and tested many times over.
Yandex's performance abroad may just depend on how fast it learns to "recognize" and "index" the mentality of other countries.
All rights reserved by Rossiyskaya Gazeta.