Growing economy may go down on the markets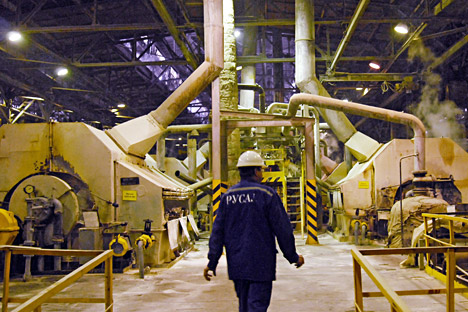 Russian businesses are walking on eggshells since the 2008 crisis. The Rusal aluminium company announced the simultaneous closure of four aluminum plants, with a corresponding fall in output of 275,000 metric tons per year. Source: ITAR-TASS
Late summer and early autumn are traditionally an anxious time for the Russian economy and its stock markets.
In the last two decades, there have been more "black Tuesdays" between August and October than at any other time of the year.
The pattern is playing out again this year with steady stock market drops despite a relatively stable economy but one facing a grim outlook.
Economic growth has stayed above expectations but many companies have been hurt by the external business climate and most expect the domestic economy will soon take a hit.
The MICEX index of the most 30 liquid stocks on Moscow Exchange grew 14 percent in Q2 but is now struggling to get back to levels of March 2011 after huge drops early in Q3. Average trading volumes have been on a steady decline as investors head for the sidelines.
The real economy has, so far, held up well. Economic growth in the first half topped 4.4 percent, ahead of the IMF's forecast of 4 percent. Growth in the second half could come in at 3.5 percent, still ahead of IMF estimates of 3.4 percent.
"The general sense is that, compared to 2008, Russian companies have become less sensitive to the financial market," said Natalia Orlova, chief economist at Alfa Bank, the largest private bank in Russia.
But while everything looks good in the rearview mirror, clouds may be gathering ahead.
One concern is the ongoing push by the Russian government to curb its budget deficits. The government has slashed outlays to the automotive industry by 22 percent to $245 million (7.6 billion rubles) and to the railway industry by 14.8 percent to almost $8 billion (248 billion rubles).
Another is a visible slowdown in foreign direct investment, which grew by just 8 percent to $7.6 billion in the first half and not even on track to hit the $18.4 billion total of 2011.
Conversely, capital outflows could exceed $50 billion, estimates Andrei Klepach, Russia's deputy minister for economy and development.
"The capital flight is not due to markets closing, but the fact that companies are becoming less attractive to investors," said Orlova.
Figures from statistics provider Rosstat suggest profits across most sectors in Q1 2012: By 5.9 percent in mining; 8.9 percent in manufacturing, and 42 percent in electricity, gas and water utilities. Large companies are gradually beginning to follow the path of austerity.
In late August, Rusal announced the simultaneous closure of four aluminum plants, with a corresponding fall in output of 275,000 metric tons per year.
The price of aluminum on the London Metal Exchange is only 1.6 percent higher than Rusal's own cost, which means the company is teetering on the brink. The world's largest aluminum producer has promised to avoid layoffs, but for how much longer, and whether such declaration can be considered a guarantee, remains unclear.
Many Russian businesses are walking on eggshells since the 2008 crisis and, with bad economic weather on the horizon, are battening down the hatches.
"Many have already begun to prepare for the crisis, primarily by cutting costs," said Kirill Dmitriev. "No one is talking about mass layoffs at this stage – it's more about moving staff to other areas."
Nobody really expects a repeat of 2009, said Andrei Gurov, CEO of SI Group, Russia's largest groceries operator, but even if it were to happen, Russia has seen worse.
"We survived that year. True, it wasn't much fun, but no one was out there digging a grave for himself."
All rights reserved by Rossiyskaya Gazeta.