Kaspersky's ex-wife became shareholder of German antivirus producer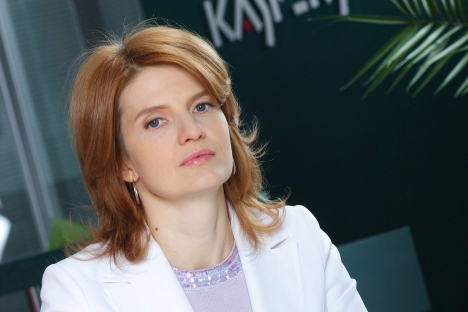 Natalya Kaspersky, former wife of Kaspersky Lab founder, Eugene Kaspersky, is expected to be elected to the board of directors of G Data, the German antivirus producer. Source: Kommersant
InfoWatch Group, the Russian provider of DLP (Data Loss Protection) solutions, has acquired a 16.3 percent stake in the German antivirus producer G Data.
Shares were bought from several minor stakeholders; the main acquiring shareholder, Natalya Kaspersky (former wife of Kaspersky Lab founder, Eugene Kaspersky), is expected to be elected to the company's board of directors. The sum of the deal has not been disclosed.
Kai Figge, one of the founders of G Data and long-time acquaintance of Natalya Kaspersky, was the one to propose that Natalya buy a stake in the German company. In the 1990s, Natalya was the general director of Kaspersky Lab – a company she founded together with her ex-husband, Eugene Kaspersky. The two companies came to an agreement on technical co-operation that continues to this day.
Founded in 1985, G Data is famous for its line of personal antivirus products.
Commenting on the acquisition, Natalya Kaspersky said: "I have been observing this company for many years, and it deserves success on an international scale – it offers excellent software that provides a very high level of protection. Over several years, G Data has made serious technological breakthroughs."
"I was struck by the huge number of international prizes that G Data's software has received. I believe that, despite huge changes in the IT industry, the quality of virus detection offered by antivirus software companies is still a key indicator," she added.
Figge commented on the deal: "I have known Natalya Kaspersky since 1996. As well as being an exceptional person, she has a uniquely successful business history. In Natalya I am lucky to have a reliable, experienced and smart partner for my company – the sort one can only dream of!"
InfoWatch is only now preparing to enter the European market. Therefore, the deal is a win-win situation for both parties: InfoWatch will acquire a European platform, and G Data will gain entry to the Russian market. Still, the latter will have to fight hard for its share of the Russian market: it is already fairly saturated with antivirus programs. According to the analytical portal Anti-malware.ru, Kaspersky products account for more than half of the market, and, over the past two years, the company has increased its share. As it turns out, Natalya will end up in direct competition with her ex-husband.
This is not the first German company to be acquired by Infowatch. As part of a 2011 business diversification program, Infowatch bought Cynapspro GmbH, which was then transformed into EgoSecure. The company develops products in the endpoint protection sector, for the security of devices in corporate networks. At the time of the acquisition, there were also investments put into a start-up company for the development of control software applications.
Acquisitions are an important part of the development strategy for any DLP solution provider. Natalya noted that "the most established DLP producers are trying to break away from systems for protection against leakages and move into related areas, to expand their functional scope."
Another deal has also taken place as part of this series: the acquisition of Appercut Security from Hayretdinov, Natalya Kaspersky's deputy at InfoWatch. The deal, which will be completed through an exchange of shares, was announced on Oct. 8. Appercut Security entered the market in 2010 and engages in analyzing application source codes for vulnerabilities. Before Appercut was sold, the company had completed 10 pilot projects; its online resource has a number of users in Canada and the United States.
All rights reserved by Rossiyskaya Gazeta.