Houston unveils monument to first cosmonaut Yuri Gagarin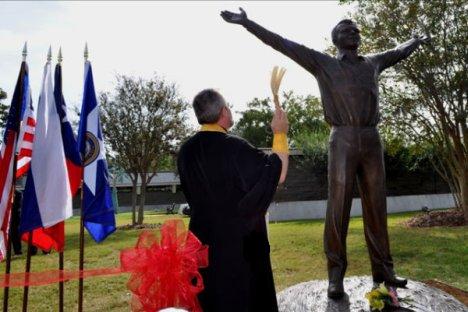 A statue of Yuri Gagarin was unveiled in Houston, Texas in the park near the historical building of the first NASA headquarters. Source: Press Photo
A bronze statue of Yuri Gagarin is unveiled in the same city as NASA's Mission Control thanks to a donation from Russian sponsors.
The project to perpetuate the first man in space in Houston is financed by the international charity foundation "Dialogue of Cultures – United World".
Yuri Gagarin became the first man to journey into outer space. His Vostok spacecraft orbited the Earth on April 12th 1961.
His contemporaries remember him as an ever joyful, open-hearted man. As if reaffirming this, the bronze statue designed by Russian sculptor Alexei Leonov depicts the world's first man in space smiling, with his arms stretched toward the heavens. Ruslan Bairamov, President of the Dialogue of Cultures Foundation, told a Voice of Russia correspondent about yet another project.
"The Dialogues of Cultures Foundation is pursuing a project known as Ethnomir near Borovsk in the Kaluga Region. This area was where Russian and Soviet rocket scientist and pioneer of the astronautic theory Konstantin Tsiolkovsky lived 100 years ago. Tsiolkovsky's calculations inspired Soviet rocket engineers and contributed to the Soviet space program. The Ethnomir Project aims to throw a bridge between Houston and Kaluga in terms of space exploration."
Last year a Gagarin statue was unveiled in London to mark 50 years since the first man in space visited Britain in 1961. The statue was placed off The Mall, which leads from Trafalgar Square to Buckingham Palace. The London authorities picked this location because Gagarin passed it as he was on his way to see the Queen.
Symbolically, the Gagarin Statue in London faces the pedestal of Captain Cook on the opposite side of The Mall. The pedestal of Captain Cook, who circled the planet under sail 200 years before Gagarin circled the Earth in a spacecraft, has the words "circumnavigator of the globe". Ruslam Bairamov is sure that the dialogue of cultures will continue.
"The Dialogue of Cultures Foundation finances statues and monuments to international celebrities of different times whose saw it their mission to serve humanity. The Foundation is set on creating venues where people could talk about their unity and distinction. Gagarin and other images fully comply with this idea."
All rights reserved by Rossiyskaya Gazeta.