The U.S. chases Russian striker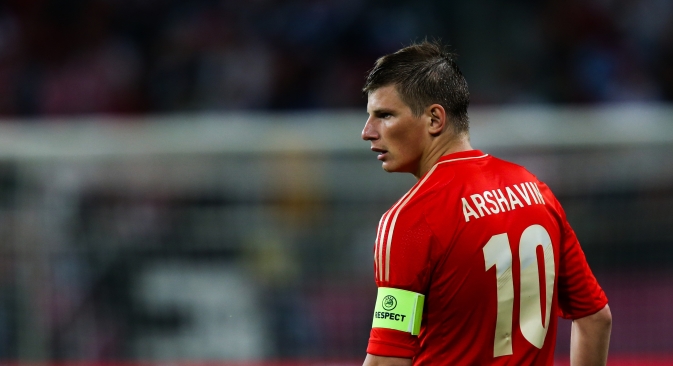 Andrey Arshavin, the former captain of the Russia's national soccer team. Source: ITAR-TASS
The former captain of the Russia's national soccer team, Andrey Arshavin, may continue his soccer career in North America's Major League Soccer (MLS).
Having lost his spot in Arsenal FC's starting lineup for good, the former captain of the Russia's national soccer team, Andrey Arshavin, is looking for a new team to move on with his career. Izvestia sources report that several Major League Soccer (MLS) clubs and one Chinese team are interested in signing the 31-year-old striker.
Arshavin himself remains silent about speculations regarding his future. However, the player's former agent, Dennis Lakhter, says he knows for a fact that American clubs were interested in the Russian forward.
"Certain clubs from the United States and China have expressed their interest in signing Arshavin, but that's all I can say," Lakhter told Izvestia. "Andrey has never been particularly keen on the idea of playing for a lower wage. Besides, he is a family man and his wife has recently given birth to another child. I doubt that he would agree to go to the other end of the world by himself. And moving the whole family may be troublesome."
The national soccer championship in the U.S. has been developing in leaps and bounds over recent years, and many prominent players have opted to end their careers across the Atlantic.
Stars such as Thierry Henry, David Beckham, Robbie Keane, Rafael Marquez, Torsten Frings and Tim Cahill are now shining in the MLS. There would be no shame in joining this group. In terms of everyday conveniences, the United States is arguably one of the most comfortable countries in the world. In addition, Arshavin may be able to sign new advertising contracts there – all the more so, given the country's large Russian-speaking community.
As a legendary FC Zenit (St. Petersburg) and team Russia forward, Alexander Panov is positive that the potential trans-Atlantic transfer may be the best career choice for Arshavin today.
"It seems like a decent career option," Panov told to Izvestia. "He is a well-known player, so there is nothing surprising about the interest from the United States. In general, I would be very happy if all of this worked out. In my view, this transfer would optimal for both Arshavin and the club that would be getting a world-class player."
Still, Arshavin, once Russia's biggest soccer star, is not very particularly popular these days. Russian clubs are not very eager to see him in their ranks, with his high salary being one of the stumbling blocks. Recently, there have been talks about London's Fulham perhaps being willing to strengthen its squad with the Russian striker; but Arshavin is keeping quiet about his future prospects and seemingly hoping that Arsenal manager Arsene Wenger will give him another chance.
This season, Andrey has been largely absent, even from Arsenal's substitute list. In fact, he has only played two official matches for "The Gunners." He made a substitute appearance with 14 minutes left in the first game of the season, where he faced the low-profile Coventry City in the FA Cup with what was essentially an Arsenal reserve team. Arshavin scored a goal and made two assists in that game, but Wenger was still unimpressed with his performance, and the Russian player found himself on the substitutes' bench once again.
The Russian national team coach, Fabio Capello, gave Arshavin a chance in the first match against Ivory Coast, but has kept him off the team ever since. Capello made it clear that he has placed his bets on the younger Aleksandr Kokorin, who has successfully replaced the former captain at right forward.
Arsenal CEO Ivan Gazidis announced that it was time the club started to re-arrange its cash flows, stating that the sale of the Russian striker might be one of the solutions. In particular, it was deemed unacceptable that a number of the team's highest-earning players – Andrey Arshavin, Tomas Rosicky, Marouane Chamakh and Manuel Almunia, among others – were of no use to Arsenal on the pitch.
Team bosses are planning to start distributing salaries more evenly in the short-term. In light of this, the aforementioned players may leave "The Gunners" as soon as this winter, allowing the club to cut its payroll significantly.
The original Russian-language article is available in the Izvestia newspaper.
All rights reserved by Rossiyskaya Gazeta.