Russia, China to challenge Moody's, Fitch, and S&P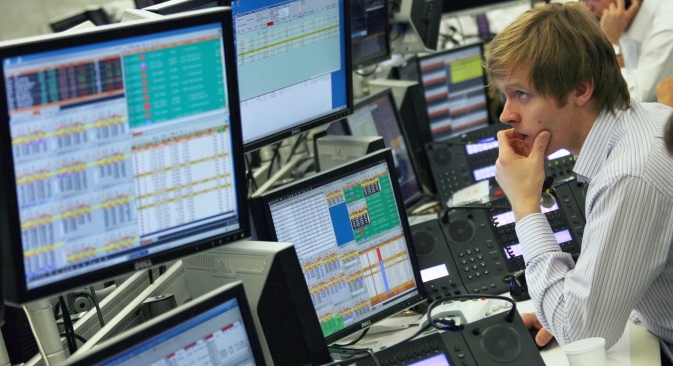 Moody's, Fitch, Standard & Poor's may have new competitors. Source: RIA Novosti / Ruslan Krivobok
Chinese credit rating agency Dagong has establishing a joint venture with both its Russian counterparts RusRating and the U.S. firm Egan-Jones Ratings. In BRICS member states, the new credit rating group hopes to rival the "big three" agencies.
China's largest credit rating agency, Dagong Global Credit Rating, has officially announced plans to join forces with credit rating agencies from the United States and Russia – Egan-Jones Ratings and RusRating, respectively. The new international credit rating agency will be named Universal Credit Rating Group.
Dagong has stated that the new organization will be an independent credit rating agency, which will not represent the interest of any particular country or group.
"The current system of international credit ratings doesn't work, so a new economic institution is needed to rehabilitate the situation," the Chinese agency said in a press statement.
Managing Director of Egan-Jones Ratings, Bill Hassiepen, told RBC Daily that the three credit rating agencies will form a strategic alliance, but there will be no merger of the three companies.
"The three companies will work separately, while marketing their services together. We will offer our customers the services of the other members of the alliance," he said. "We chose China and Russia because these are developing markets, and many people are poorly informed about them," said Hassiepen. RusRating CEO Richard Hainsworth declined to comment.
Dagong is the largest credit rating agency in Southeast Asia. It has been following an aggressive expansion policy in recent years, opening offices in different countries based on franchising agreements. Dagong hopes to eventually challenge the American "big three" credit rating agencies – Moody's, Fitch and Standard & Poor's – which have faced a barrage of criticism in the aftermath of the 2008 credit crunch. The new alliance hopes to become the chief supplier of rating services to BRICS member states.
The general director of the National Rating Agency, Viktor Chetverikov, has not ruled out the possibility that the Chinese company's aim is to gain a Russian subsidiary that will give them a stronger footing in BRICS.
"I don't see a merger in this deal, but rather an acquisition by the Chinese agency of its two partners. It's very unlikely that each of the three parties enjoys equal rights in this tripartite alliance," said Pavel Samiyev, deputy general director at Expert-RA.
Dagong is a prominent international player, whereas RusRating is Russia's smallest credit rating agency and many times smaller than its new Chinese partner.
First published in Russian in RBC Daily.
All rights reserved by Rossiyskaya Gazeta.