Yandex.Money to turn smartphones into POS terminals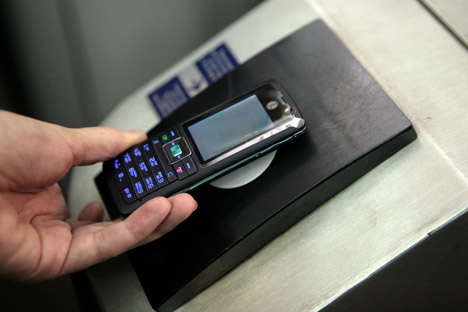 The aim of Yandex.Kassa is to help companies attract clients, by increasing the speed and quality of service and automating business processes. Source: ITAR-TASS
Yandex has developed a service similar to the U.S.-based Square application: a smartphone app will allow users to make bank card payments on the go.
The payment system Yandex.Money is now ready to accept payments from cardholders.
It has developed an app called Yandeks.Kassa that is similar to the popular U.S. service Square – a special device, which is essentially a miniature POS terminal attached to the user's smartphone, reads MasterCard and Visa cards. According to Asya Melkumova of Yandex Money, the encrypted data is then fed into the app, which performs the transaction.
A Moscow taxi firm is planning to begin using Yandex.Kassa before November. During the trial period, the service will operate in four cabs initially; down the road, the system may be used in 200-300 taxis.
Yandeks.Kassa could also come in handy for use in outdoor cafes and small shops, including ones that deliver and take online orders.
As Melkumova sums up, the service is convenient for practically any situation in which people still pay with cash. Yandex is focused on consumers who are not accustomed to electronic money, but who still use bank cards, she says. For each transaction, the company will charge a commission fee, though she declined to state the exact percentage. PayPal and Square take 2.7-3.5 percent of each payment.
Yandex's partner in the project, SellbyCell, has ordered the card readers from China, but plans to open a production facility in Russia as the project gains momentum, says company spokesman Eduard Irinovsky.
Card payments by mobile phone have become popular, thanks to the Square application developed in the United States. In Russia, Moskomprivatbank has also been extending the availability of POS terminals since May 2012: It has an iPay app for iPhone and Android.
Meanwhile, Inventure Partners, a Russian fund, has invested $1.6 million in the company Smartfin. The company has developed a similar service under the name 2Can, which is intended for use with Visa and Promsvyazbank.
The success of the Yandex project will depend on its compatibility with Visa and MasterCard, and on how well it learns from Western experience, says Smartfin's CEO, Nikolai Zhmurenko.
Above all, he is mindful of security, including data encryption.
"It is important that the reader can be installed on more than just a handful of smartphone models," he said. "The market is very easy to enter – start-up costs are low, so competition will be high," said Viktor Dostov, chairman of the Electronic Money association.
"But information about mobile purchasing will spread quickly amongst potential users, who will not be afraid to make card payments; so competitors will help not hinder each other," said Zhmurenko hopefully.
"Yandex.Kassa is being launched at an opportune moment: the technology has had a dry run in the West, and the market is bubbling," said Artem Petsyukha, development manager for e-commerce at MasterCard Russia. Conventional POS terminals do not always offer a convenient solution, especially for small businesses.
Often, the user — for example, a courier or taxi driver — simply has nowhere to put the device. The aim of Yandex.Kassa is to help companies attract clients, by increasing the speed and quality of service and automating business processes. It is hoped that the service will extract maximum benefit from the convenience of bank card payments.
First published in Russian in Vedomosti.ru
All rights reserved by Rossiyskaya Gazeta.