Moscow Region welcomes new governor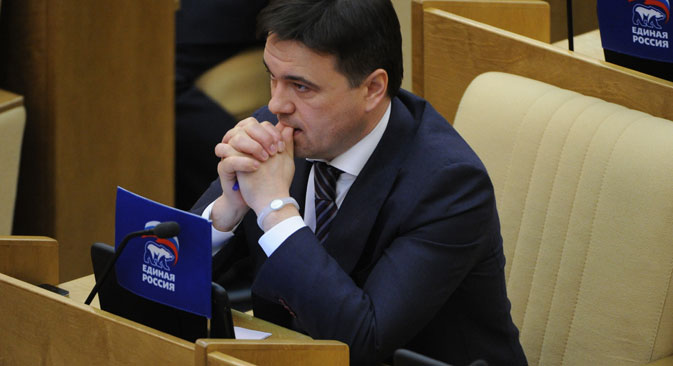 Andrei Vorobyov is the energetic 42-year-old leader of the United Russia faction in the State Duma. Source: ITAR-TASS.
Vladimir Putin has signed a decree to appoint Andrei Vorobyov, leader of the United Russia parliamentary faction, as acting governor of Moscow Region. Vorobyov will serve in this capacity until September 8, 2013, until a new governor is elected. 
"Work in the nation's parliament is of extreme importance – most especially at the head of the leading faction – but I wish, however, to propose another job to you, in the sphere of the implementation of government. I mean specifically the post of acting head of Moscow Region," said Russian President Vladimir Putin in an address to Andrei Vorobyov, leader of the United Russia political party.
Vorobyov accepted the proposal: "It's a huge region, with many difficulties, but I'm ready to take this on." The team that had been working for Sergei Shoigu had prepared a clear action plan and promised to implement it, he added. Vorobyov took over the role of governor from Sergei Shoigu, who served at the Moscow post for half a year before being named Minister of Defense in place of Anatoly Serdyukov, who was recently dismissed by the president.
Prior to this announcement, the region had been governed for two days by Deputy Governor Ruslan Tsalikov. Sources for the newspaper Vedomosti, including those within the government and the Kremlin, remain certain that Tsalikov will also be transferred to the Ministry of Defense alongside his former boss, Sergei Shoigu.
Andrei Vorobyov is the energetic 42-year-old leader of the United Russia faction in the State Duma; he has long been identified by the administration as a politician on the rise. His name was mentioned as a possible candidate for governor of Krasnoyarsk Territory in 2010, as well as a successor to Shoigu at the Emergencies Ministry, after the latter took on governorship of Moscow Region. Vorobyov calls Shoigu his political godfather – his father has long been a friend and colleague of the new Defense Minister.
Sources close to the Duma's administration say Shoigu vouchsafed for Vorobyov to the president; with the appointment, Shoigu and Putin have effectively "left the region under his control." Vorobyov's main job will be to carry forward the present agenda and implement Shoigu's undertakings. In just a few months, Shoigu had succeeded in placing many of his own people in the region and beginning a number of ambitious projects, said one of Shoigu's insiders.
"The previous team put together by Sergei Shoigu has produced a very clear and understandable plan, and we will work to implement it," Vorobyov said to Putin at their meeting. The president reminded him of his primary duty – "to serve people" – and drew Vorobyov's attention to the fact that Moscow Region is the most important electoral region in the country after Moscow, with a population of 7 million.
Political commentator Stanislav Belkovsky told Kommersant that Vorobyov's chances of winning the Moscow Region gubernatorial election in 2013 would be extremely high. Belkovsky suggests that the successful outcome of that election would be in the interests of all those who played a role in appointing the candidate – Vladimir Putin, Sergei Shoigu, Vyacheslav Volodin, and party colleagues. In addition to this, Andrei Vorobyov has repeatedly taken part in election campaigns as a State Duma deputy, has held election debates with his opponents and has experience in public politics. His election campaign would also gain greatly from the authority of Sergei Shoigu, who has a very high rating in the region of Moscow's periphery.
Billionaire and opposition politician Mikhail Prokhorov expressed displeasure with the new appointment in an interview on RBK-TV. Prokhorov's opinion was that Vorobyov "has no experience in running large systems, or such a huge and complex jurisdiction as Moscow Region." It all points to what he calls the "purely political" rationale behind Vladimir Putin's approach to allocating governmental posts.
"I believe we now witness the emergence of a political dynasty on a non-competitive basis. Although, there still remains one positive thing in all this – that the guy himself is pretty durable, I'd say, and wealthy. And so he'll take care to ensure there's no graft in Moscow Region," said Prokhorov, who is also the leader of the Civic Platform political party.
This will already be the fourth head of Moscow Region in the last 6 months, if the two-day tenure of Deputy Governor Tsalikov is included.
Since the end of the 1990s, the region had been governed by former army Gen. Boris Gromov: elected to the post in 1999, re-elected with 80 percent of the ballot in 2003, and subsequently appointed to the post by President Putin after the direct election of regional governors in Russia was terminated. Gromov headed one of Russia's most problematic regions. At its center is Moscow – a separate constituent entity of the Russian Federation. An enormous number of its 7 million constituents commute daily to Moscow – a commuting pattern that imposes a colossal strain on public transport and the road network. Another challenging migration pattern involves dacha owners who have plots of land and summer houses in Moscow Region. In spring 2012, Gromov's term of office expired and the president made no attempt to reappoint him – a series of corruption scandals and the "unresolved problems of Moscow Region" brought the general's career to an end.
The new governor of Moscow Region then became Sergei Shoigu, who had served for 20 years as the Emergencies Minister – initially as head of the Emergencies Committee in 1991, after which the Committee was made into a full-fledged Ministry in 1994. The charismatic minister remained governor for only half a year, before being promoted up to Minister of Defense.
This report was combined using materials from Kommersant, Vedomosti, and RBK-TV.
All rights reserved by Rossiyskaya Gazeta.