Bringing the private sector into Russia's defense industry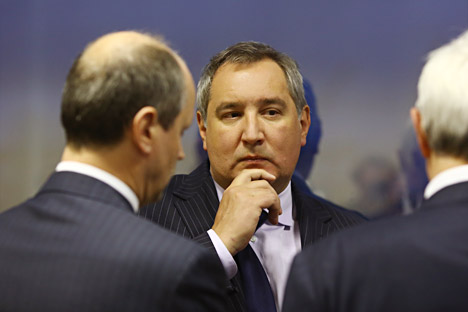 According to Rogozin, the total share of private capital in Russia's military-industrial complex should be expanded to 30-35 percent. Source: ITAR-TASS.
Deputy Prime Minister Dmitry Rogozin believes that the share of private capital in Russia's military-industrial complex should be increased to 30 percent. Rogozin has even proposed allowing private contractors to take part in developing nuclear weapons. While experts welcome the idea in general, they say tight government controls must be put in place first.
According to a statement made by Deputy Prime Minister Dmitry Rogozin, private Russian companies will be able to take part in developing material for Russia's Strategic Nuclear Forces (SNF).
"Of course everything that is related to SNF manufacturing must be under total state control. But without a doubt, private companies can participate as well, and cooperation in this industry is extremely deep – perhaps 300-400 companies," Rogozin said.
He explained that, in order to operate in this sector of the defense industry, private companies will need to pass a number of background checks and obtain the appropriate clearances. He was quoted by RIA Novosti as saying that all these issues can be resolved without a problem.
The deputy prime minister singled out the development and manufacturing of electronic components and new materials as areas where private contractors will need to be involved.
According to Rogozin, the total share of private capital in Russia's military-industrial complex should be expanded to 30-35 percent.
"In the United States, 60 percent of defense industry companies are in private hands. I think this number will reach 30-35 percent in Russia, once government measures for bringing the private sector into the defense industry are implemented. This is less than in the U.S., because our public sector has traditionally been very strong, with 1,350 state-run defense companies," said Rogozin.
Rogozin has stated earlier that private military companies could be established in Russia. The Military Industrial Government Commission is now studying this proposal, facing the task of averting conflict between the state and private businesses in the industry.
Experts have welcomed Rogozin's idea to allow privately run companies to work in Russia's defense industry.
"Private companies emphasize performance and cost cutting. International experience shows that state-run companies are less efficient than private ones, especially in non-competitive sectors. Most defense contractors in the United States and Europe are privately owned and compete for government contracts," said Vadim Kozyulin, director of the conventional weapons project at the Russian Center for Policy Studies.
"Russia has privately owned defense companies too," said Kozyulin. "There are state-run concerns in the field of drones that receive substantial funding but deliver zero results. Meanwhile, companies that operate without state support manufacture quite competitive products. They compete for major customers, such as the Ministry of Emergency Situations, the police and the border guard service, and make do without state investments. Other positive examples include radio electronics and radio electronic warfare device development. Private companies own most of innovative designs in this area.
"As far as the nuclear forces are concerned, the inclusion of private capital must be approached with caution, because the area is very sensitive. It can't be said with confidence whether state-run companies would agree to split the market with privately owned ones. State controls are obviously required there. Involving private contractors in government cryptology and cyber warfare also needs caution. Although, in the United States for example, the government has learned to work effectively with private companies in developing software for tracking illegal online activities," Kozyulin said.
According to the director of the Center for Analysis of World Arms Trade, Igor Korotchenko, contractors that have already cooperated with state-run defense companies and are properly licensed should be allowed to work in the defense sector. He believes that the first articles that private contractors should be allowed to manufacture are firearms and electronic components.
"Russia has two nuclear centers complete with research teams. Some of the employees of those centers might want to join the private sector. But all of this will happen under the supervision of special services, because random entities should not be allowed into this sector," Korotchenko said.
First published in Russian in Vzglyad.
All rights reserved by Rossiyskaya Gazeta.