Moscow to build its first children's hospice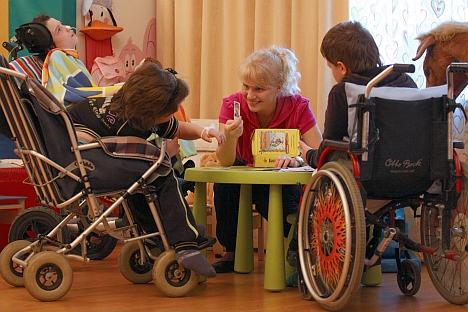 Pictured: A volunteer in a children's hospice in St. Petersburg. Source: ITAR-TASS
A petition signed by 15,000 people prompts Moscow Mayor Sobyanin to allocate land to actress Chulpan Khamatova's charity, for the city's first children's hospice.
The Podari Zhizn (Gift of Life) charity has been offered a selection of eight sites to build Moscow's first hospice for children, RIA Novosti reported.
The decision came a week after the founders of the charity, famous actresses Chulpan Khamatova and Dina Korzun, penned an open letter to Moscow Mayor Sergei Sobyanin signed by over 15,000 people.
"More than 100 children die of incurable diseases in Moscow every year," the letter, which was posted on the website of Ekho Moskvy radio station, says.
According to its authors, around 3,000 children require palliative care in Moscow.
"There are hospices all over the world for such children. There are five children's hospices in London, which has a smaller population than Moscow," the letter says.
In late November, Khamatova and actress Ingeborga Dapkunaite, who is also an active contributor to Podari Zhizn, met with the deputy mayor for social development, Leonid Pechatnikov, and the head of the Moscow healthcare department, Georgy Golukhov.
A source in the Moscow healthcare department told Interfax that the charity had been offered a choice of eight land plots, each under 2.5 acres, for the construction of the children's hospice. All of the sites are located in the center of Moscow, as requested in the letter.
"The site needs to be located within Third Ring Road (central Moscow), because the hospice will mostly provide visiting services, with up to 60 visits to patients every day. It therefore needs the best possible access to all of Moscow's districts," the letter stated.
The sites that have been offered currently house dilapidated buildings, Interfax reports.
Representatives of the foundation have been given some time to analyze the sites before making a decision. The foundation's staff will visit each of the sites to see which one suits them best, as soon as they receive the necessary permits.
"The land plot will be provided free of charge," a source in Moscow's city government told RIA Novosti. Additionally, the lease will be given for a period of 49 years.
In her blog on the Ekho Moskvy website, Khamatova said that she was grateful to everyone who had signed the petition.
"The children's hospice will mark a new stage in the history of the hospice movement in Moscow. And I give credit to all of you for this," Khamatova wrote.
Podari Zhizn was established in 2006 to help children suffering from oncohematological illnesses and other severe diseases.
The charity's priority is to help pay for diagnostics and treatment, acquisition of medicines, disposable materials and equipment for children and young people under the age of 25 and suffering from oncological or oncohematological diseases.
This article is based on materials published by Interfax, RIA Novosti, andEkho Moskvy.
All rights reserved by Rossiyskaya Gazeta.