Cossack muscles bring more bustle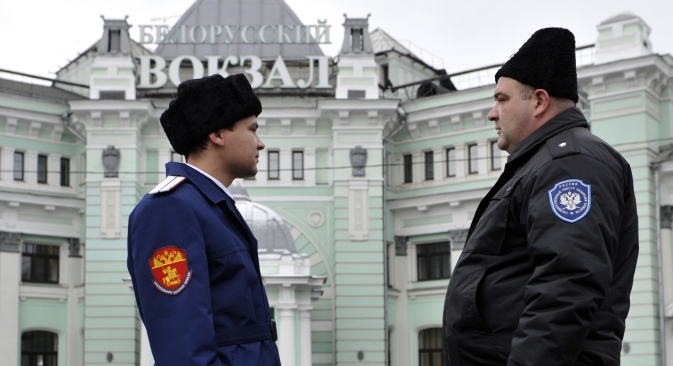 Cossacks assist the police by patrolling Moscow streets and targeting illegal traders. Yet their recent unsanctioned campaign in Belarussky Railway Station brought about more mess than order. Source: ITAR-TASS / Sergey Bobylev
Cossacks' recent unsanctioned campaign against the illegal traders at Belarussky Railway Station resulted in indignation among both vendors and Moscow authorities which fuelled further debates about the creation of Cossacks squads patrolling Moscow streets.
Interior Ministry and Moscow City Council warned Cossacks against violating the order in Moscow streets and encouraged them to observe the law shortly after the incident in Belarusky Railway Station involving Cossacks who launched their first unsanctioned campaign against illegal traders.
According to witnesses and journalist Cossacks, who are expected to assist Moscow police in patrolling the streets, abused their power and violate the law. The incident fuelled debates on the creation a squad of modern-day Cossacks assisting the police by patrolling the streets of Moscow targeting illegal retail outlets.
A squad of more than 600 Cossacks is helping police by targeting illegal traders on the streets of Moscow. They will focus on Tverskaya Street, Belarussky Railway Station Square and the Mayakovskaya underground station area, where unauthorized demonstrations are often held.
"There are always peddlers selling flowers, SIM cards, glasses and clothes there. As we move towards the New Year, it will be firecrackers and toys," Andrei Kuleshov, deputy head of Tverskoi neighborhood, told Izvestia.
He said the central district would follow the practice in the south-eastern district, where Cossacks have assisted the Interior Ministry, the anti-drugs police and even the Federal Penitentiary Service for some time.
On November 13, Nikolai Komarovsky, adviser to the committee for Cossack affairs, told Izvestia that "Cossack police squads" in excess of 600 officers would begin patrols of the city's main streets, which are said to be teeming with illegal traders. Gennady Kolesnikov, the deputy head of the Central Cossack Society, said he expected that Cossacks would also soon be given powers to address the problem of motorists who park their cars illegally.
The Cossacks will wear special armbands and carry identification certificates just like any other volunteer patrolmen. However, they will be more conspicuous as they are permitted to patrol in their traditional blue uniforms with red stripes on their trousers. They cannot carry any weapons, and have no right to detain or escort people to a local police station.
Like the police community support officers (PCSOs) in the UK, all they can do is reason with offenders in an attempt to persuade them to stop their illegal activities and call the police should further action be needed. But while PCSOs are paid for their work, Cossacks do the work voluntarily, with their only compensation being a free monthly travel card. The horses, sabers and whips, with which Cossacks are famously associated from the days of tsarist Russia, are not permitted on patrols.
Historically, the Cossacks were a privileged military social class in the Russian Empire. They cultivated their land and served in the army. As it was their mission to protect the nation's borders, they mainly settled along southern and eastern fringes of the empire.
In the early 20th century, Cossacks were used by the tsar to quell riots and crush attempted revolutions. After the Communist revolution in 1917, most of the Cossacks revolted against the new Soviet regime and were virtually extinguished as a class. But now their numerous descendants in Russia are trying to preserve and recreate their history.
In the past year, there have been a number of controversies as a result of Cossacks attempting to champion public morality in both St Petersburg and Moscow, areas that were never traditionally Cossack regions. They disrupted exhibitions and protested against what they assumed to be frivolous stage productions. Many regard the new Cossacks as a subculture, a form of role-playing.
Traditionally, membership of the Cossack class was, with very rare exceptions, hereditary. These days, it is open to newcomers and the group often attracts nationalists.
All rights reserved by Rossiyskaya Gazeta.