Medvedev wants a lifetime stadium ban for sports fans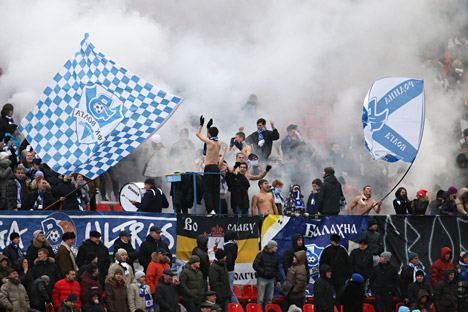 Those who commit crimes during sporting events may be banned from attending the events. Source: RIA Novosti / Grogory Sokolov
Russian Prime Minister Dmitry Medvedev has called for the introduction of lifetime stadium bans for hooligans at sporting events. The leaders of Moscow's Spartak and Zenit fan groups have criticized the idea: They believe that Medvedev's proposal to tighten the law will lead to mass rallies.
Medvedev proposed the introduction of lifetime stadium bans for those who commit crimes during sporting events. This comes after the recent incident at the match between Moscow's Dynamo and St. Petersburg's Zenit in the 16th round of the Russian soccer championship.
The present draft law stipulates a ban on attending sporting events for up to one year. The punishment can only be imposed by a court, and failure to comply results in 15 days of administrative detention.
"The bill is ready to be submitted to the State Duma," said Deputy Prime Minister Dmitry Kozak at a meeting with the head of the government.
"But for those who commit an offense inside a stadium, the administrative ban could be extended ‒ maybe for life," said Medvedev. "In any case, the ban could be increased for people who commit crimes directly inside stadiums, so they understand that any punishment under criminal law will be accompanied by a long ban from sporting events."
"If someone commits an act of hooliganism ‒ such as the one we witnessed at the stadium in Khimki ‒ and gets a prison sentence, in all likelihood, he'll be unable to visit [stadiums] for a year at the most. But after his release from prison, the administrative suspension will already have expired, and that seems unfair to me... supporters should not suffer because that individual is allowed back into the stadium," said Medvedev, as quoted by RIA Novosti.
Fans have responded to the prime minister's words.
"The amendments proposed by Medvedev will lead to mass protest rallies by fans from all clubs. It will stir up public feeling again, that's a given," said Anton Volodin, leader of the Fratria fan organization of Spartak.
"For such a law to come into force, every fan needs to be clearly identified," he added. "The law on supporters and the sale of tickets against passports is optional. Ticketing is a matter for clubs to decide themselves. Some will introduce the measure, some won't. But at present, no one has the legal authority to force all clubs to match tickets against passports. However, it should be noted that the new bill also fails to stipulate that tickets be checked against documents. They only need to be presented at the stadium entrance."
Tougher penalties are also opposed by the leader of the Nevsky Front fan group, Alexander Rumyantsev. "A 15-year-old lad commits a misdemeanor, but he'll grow up and change his attitude ‒ but by that time he'll be banned from everything," said Rumyantsev.
In light of the forthcoming Winter Olympics in 2014 and the World Cup in 2018, the prime minister has demanded that the safety of fans and athletes at events take priority and that severe punishments be introduced for offenders.
"The so-called laws on supporters need to be toughened so as to maintain public order at official competitions," said Medvedev. "Recent incidents, including the match at Khimki, have served to highlight this even more. Legally balanced measures are required. They should be strict enough to deal with individuals who go to matches not as spectators but as hooligans, and to clamp down fully on those who commit a premeditated offense ‒ especially in view of the major sporting events coming up in the next few years."
First published in Russian in Gazeta.ru.
All rights reserved by Rossiyskaya Gazeta.