Devoted to soccer from head to toe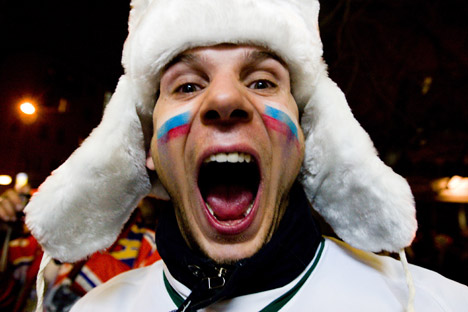 A football fan. Source: ITAR-TASS
Serious fans know what kind of equipment they have to have – and they debate the merits of various products online.
Ivan Gaykovich stands in front of a shelf of soccer cleats in a sporting-goods store in the northern Russian town of Sosnogorsk. Gaykovich may be only 11, but he doesn't need any help picking out his shoes; he knows exactly what he came for. This is nothing new for salesman Alexander Medlin.
"The kids see on TV what kind of shoes their favorite players wear and there is no convincing them otherwise. Most parents are also quick to give up any kind of debate," Medlin said.
Gaykovich spots a pair of white Adidas cleats, size 37, with pink shoelaces that cost roughly $150. It's not a problem for Ivan's father Alexei, a truck driver. He considers the investment in his son's passion more than worth it, although he personally doesn't really know the first thing about soccer cleats. "The boys know everything," the elder Gaykovich said. "They read up on them online and share the latest info with each other."
Russian social networking site Vkontakte and its 100 million users is the virtual meeting point for the next generation of soccer players, who go online to talk about their passion off the field. The site also serves as the breeding ground for a heretofore unprecedented interest in cleats. Pictures of the latest, hippest and most gaudy models are posted between school and practice, and fundamental questions are asked, measuring the merits of specific model types. Not getting the names wrong is a thing of pride for anyone posting the latest on cleats.
Oftentimes, pictures of the cleats are used as profile pictures among users on the site. Ivan Gaykovich says he is way past that stage and that he's only interested in the practical specifications of the cleats. "They have to be light," he said. "Leo Messi has to endorse them," he continued, referring to his idol, who plays for Barcelona. Gaykovich dreams of playing for Barca. And why not? He has talent. He has a soft first touch, has a left that's as good as his right and can dribble, and his performances for the regional team in his state, which is larger than Germany, have drawn a healthy amount of praise.
Sosnogorsk, with roughly 28,000 residents, is a day's journey from Moscow by train, but it is a sports-crazed town. In the past five years, two gyms, a skating rink and several turf field have opened. Youth coach Denis Kulikov, 37, recalls that just a decade ago many kids couldn't come to practice because they didn't have money either for shoes or even the training sessions. Now money is no object, but he thinks the current obsession over the right gear is going too far. His players, Kulikov says, let the "advertisements get to their heads."
Sporting goods manufacturers have been doing great business as a result, especially market leader Adidas. Said company spokesperson Jan Runau: "Russia and the CIS have become our third-largest market behind North America and China." Adidas currently has 800 shops in Russia and aims to break a billion euros ($1.25 billion) in turnover in Russia and the CIS this year for the first time ever.
All rights reserved by Rossiyskaya Gazeta.