RBTH expands into the Middle East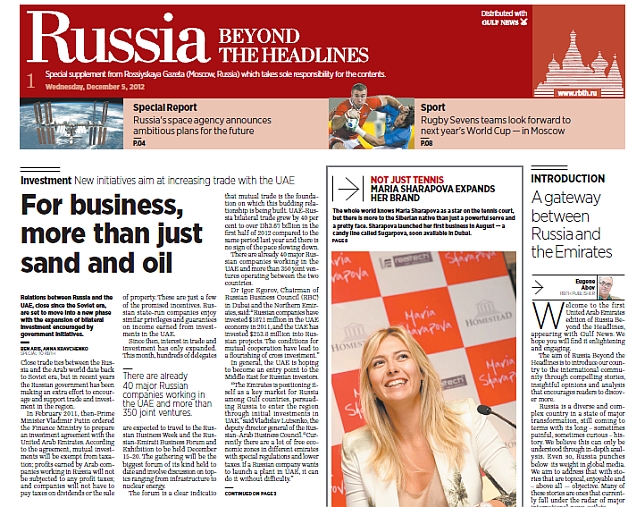 Russia Beyond the Headlines launches its first supplements in the United Arab Emirates during the first week of December. Distributed in English in the Gulf News and in Arabic in Al Khaleej, the supplements will cover political and economic ties between Russia and the UAE, bilateral investment, and feature a special report on Russia's plans for space exploration.
The circulation of the new supplements is about 270,000. They will be distributed not only in the UAE, but also in Bahrain, Qatar, Pakistan, Oman, Egypt, Yemen and other Middle Eastern countries.
"Russia Beyond the Headlines is an international project," said Eugene Abov, RBTH publisher and deputy general director of Rossiyskaya Gazeta. "We publish supplements in 22 countries and such influential newspapers like The Wall Street Journal, The New York Times, The Washington Post, The Daily Telegraph, Le Figaro and others are among our partners. But the project could not be considered truly global without such an important geopolitical region as the Middle East. We decided to enter this region through the UAE. This country combines both Eastern and Western traditions. Russia has close ties and common interests with the United Arab Emirates."
All rights reserved by Rossiyskaya Gazeta.