Moscow's doctors to learn English to improve the city's image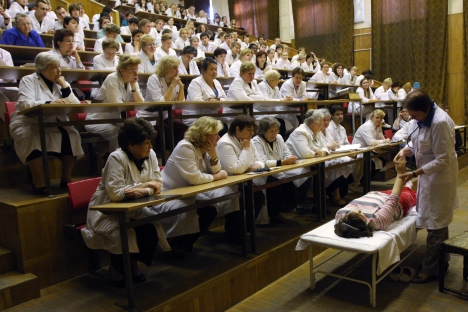 Authorities will require Moscow's doctors to speak English at an advanced level. Source: ITAR-TASS
Medical institutions in Russia's capital need to be more attuned to foreigners.
A roadmap prepared for Russia's Ministry of Finance emphasizes the need to make foreign language competency a vital part of medical training for Russia's healthcare professionals. Some view the measure as a way of ensuring Moscow's transformation into an international financial center, while others see it as necessary to providing suitable medical services to foreigners. Still others believe English fluency, in particular, is simply an essential professional ability for doctors all around the world to possess.
The city government of Moscow is in the process of developing medical education programs that will require doctors to speak English at an advanced level. This is an essential factor in making Moscow an international financial center, according to the "roadmap" prepared by Russia's Ministry of Finance.
Leonid Pechatnikov, Moscow's deputy mayor, explained that the Moscow Postgraduate Medical University is scheduled to be opened by this coming spring. "One of the crucial elements in creating this university is a high-level English language faculty," said Pechatnikov.
The Ministry of Finance, in turn, has requested that the Mayor's Office amend its five-year Developing Healthcare in Moscow program and set out new criteria for the selection of participants in educational programs that are run by the Department of Healthcare for healthcare professionals.
The roadmaps states that a high level of competence in foreign languages should become a vital and requisite component in medical training for doctors, in order for Moscow's doctors to be able to suitably attend to the medical needs of foreigners.
Pechatnikov commented that Moscow is currently rolling out a specialized university to achieve these ends. "Study of numerous languages is envisaged – primarily, of course, English," he said, not mentioning how many years of study such courses would require.
"We already have some doctors who speak English and who have learned the language on their own initiative to develop their qualifications," said Pechatnikov. "If we want our doctors to be able to speak English, as they already do in the rest of Europe, we need to complete the education begun at schools and universities. However, university education is a federal matter. So, what Moscow can do here is arrange their further training – both professional and linguistic."
The deputy mayor went on to say that Moscow has three major clinics at which either the entire staff speaks English or interpreters can at least be offered.
"However, if foreigners are to be able to get a full range of medical services, it's essential that all staff speak English," said Pechatnikov. "Looking at the statistics for the numbers of foreigners in Moscow, we believe that market forces themselves will nudge hospital managements into recruiting doctors who speak English."
The Ministry of Finance also wishes to adapt Russian medical standards toward international norms. Currently, there is only one clinic in Moscow that meets the accreditation standards of the Joint Commission International (JCI). The Mayor's Office of Moscow plans to increase this number to two by 2015, and three by 2016.
International accreditation is voluntary, but, all over the world, "no one will want to be treated in a non-accredited hospital," said Yuri Komarov, vice president of the Russian Medical Society. Accreditation testifies to the level of medical services and influences the way expats view the institution; and foreigners are used to it.
"Our doctors need English language, no matter whether they are involved in treating foreigners or not," Komarov said. "Eighty-five percent of world medical literature is in English. There's the English NICE Institute, which sets out the standards for clinical guidelines – that's all in English, too, and must be read. This is why English must be regarded as an essential upgrade in the professional ability of doctors, and not a service just for foreigners."
Sergei Lazarev, vice president of the organization Cooperating in Integration of Private Medical Centers and Clinics, further mentioned that learning English would prove easiest for young doctors and those still studying.
"Highly experienced doctors with extensive practices are likely to be too much in demand and too busy to be able to undertake language study."
First published in Russian in the Izvestia newspaper.
All rights reserved by Rossiyskaya Gazeta.