Russia-EU summit to yield more questions than answers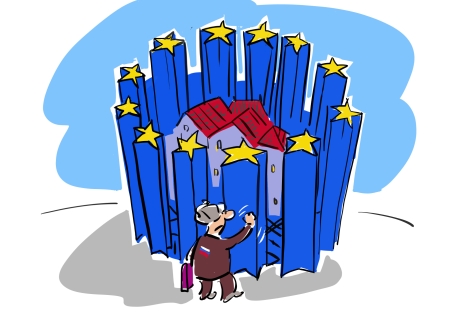 Although the Russia-EU summit agenda will be the usual mix of economic and visa matters, the meeting promises to be tense.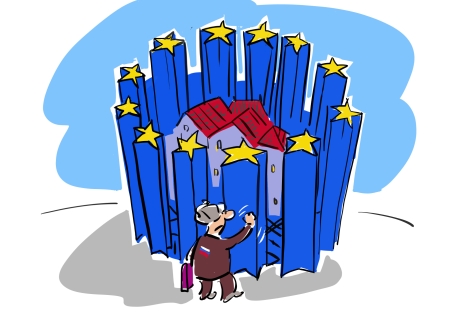 Drawing by Alexey Yorsh. Click to enlarge the image.
The 30th Russia-EU summit scheduled for Dec. 21 in Brussels is shaping up to be an uneasy affair, and it is unlikely that the meeting will result in any meaningful decisions. There are too many unresolved issues – both between Russia and the EU member countries, and within the EU itself.
Energy matters
To begin with, serious frictions exist in regard to Gazprom. The "third energy package" of gas and electric power reforms, intended by its authors to unify what is still quite a disparate EU energy market, has complicated the relations between Russia and the EU. It is on the basis of this package that the European Commission has launched a formal anti-trust investigation into Gazprom.
This situation is so serious that it was the subject of talks between Russian President Vladimir Putin and German Chancellor Angela Merkel this past November. According to the Russian president, Russia does not consider it right to retroactively apply laws that may be passed as part of the third energy package.
"In my opinion, this is absolutely unacceptable; this is a totally uncivilized way of resolving issues," Putin said. "If we (if our companies, and German companies too, by the way) invest in multi-billion projects under existing rules and existing laws, what confidence can we have in the future of those investments if such a decision is made later and new rules are retroactively applied to existing investments?"
According to Putin, the Russian side has asked the European Commission to keep this circumstance in mind and to build relations with partners so that established principles of international law are not violated.
Visa-free regime postponed
Another problem with no easy fix in sight is the introduction of visa-free travel for Russian and EU citizens. The summit is expected to assess the progress in this area, but it is likely that no decisions will be made.
Diplomats say that conversations on this subject have been rather difficult. Russia considers many of the matters discussed as part of this issue to be technical: they could be easily resolved if there is political will, which its European partners have been lacking. This, according to many Russian commentators, is a way for the EU to keep putting pressure on Russia.
Moscow is irritated that EU continue to drag their feet about making a decision. European countries understand that introducing visa-free travel with Russia would facilitate economic ties and help bring more Russian tourists to the continent. However, they claim that security issues must be tackled first. Brussels put an emphasis on the need to resolve a whole number of issues in this area, including those related to making the borders impenetrable for organized crime.
Russia points out that Moscow and Brussels have already agreed on a list of joint steps toward a transition to a visa-free travel agreement. Among other things, the list stipulates a requirement for biometric passports, as well as certain procedures to be implemented at the borders to prevent human trafficking and smuggling of prohibited substances.
According to Russia's Foreign Minister, Sergei Lavrov, these issues could be resolved by the middle of 2013, if the desire is there. This suggests that Russia is prepared to implement the agreed requirements in full, but Europeans are in no rush to proceed.
Neither side wants to set artificial deadlines, but Moscow believes that the 2014 Sochi Olympic Games would be the next natural deadline for introducing visa-free travel, if the matter is not resolved by mid-2013.
Human rights add to controversy
Human rights is also an issue that is expected to become complicated. This subject has long been a thorn in the side of Russia's relations not only with the EU but also with the United States. U.S. President Barack Obama has just signed a bill on the normalization of trade with Russia, with the included "Magnitsky Act" imposing sanctions on Russian officials that the U.S. suspects were involved in the 2009 death of Hermitage Capital lawyer, Sergei Magnitsky.
European Parliament deputies have called on EU countries to pass a similar law. It is clear that a discussion on the subject will be unavoidable at the summit.
It is also clear that Syria could become another topic of serious discussion at the summit. Russian diplomats tend to call the disagreements between Russia and Western countries in this area
"wrinkles," but they admit in private that any agreement with the West on Syria is unlikely.
Russia and the EU are thus approaching their 30th summit with a substantial load of problems. It would be unreasonable to expect the leaders to solve them all at once. But the aspirations of both sides for cooperation and a constructive dialogue give hope that neighborly and mutually beneficial relations on the continent are still possible.
Oksana Polishchuk is a RIA Novosti observer.
All rights reserved by Rossiyskaya Gazeta.