U.S.-Russia adoption agreement: Why it matters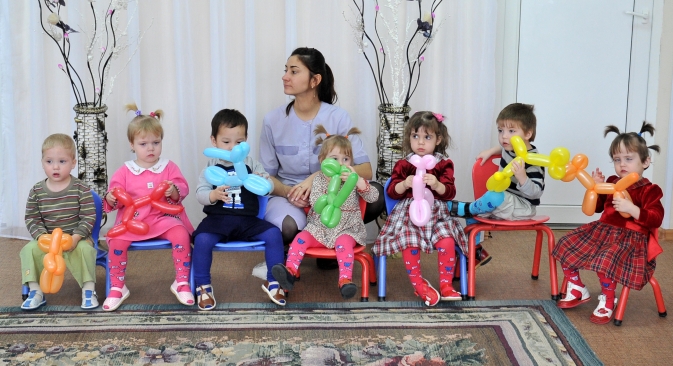 Children at the Vladivostok Orphanage. Source: Vladimir Pesnya / RIA Novosti
The upper chamber of Russia's parliament will vote on the bill revoking the U.S.-Russian agreement on adoptions on Dec. 26. If passed, the bill will be submitted to President Putin for signing and may become law. In this case, Americans will be banned from adopting Russian children.
The Agreement between the United States and Russia Regarding Cooperation in Adoption of Children took 15 months to draw up and entered into force less than two months ago, on Nov. 1. It provides "additional safeguards to better protect the welfare and interests of children and all parties involved in inter-country adoptions," as the U.S. Department of State put it.
"Until this agreement was negotiated, the federal authorities in Washington were saying that each state has its own legislation as regards the adoption, so we cannot influence them," Russia's Foreign Minister Sergei Lavrov said in an interview with Russia Today in late December.
"This agreement obliges the federal authorities to take measures to ensure that the states, first, earmark a focal point, which must be addressed, and, second, allow for the consular access for the Russian kids – which was not allowed before," Lavrov said. "Third, they consider them until the age of 16 Russian citizens, which was also not the practice."
The agreement maintains that an adopted child acquires the citizenship of the receiving country and also retains the citizenship of the country of origin.
The agreement further provides for the application of domestic laws, which include federal and local legislation of the parties. It also sets out strict requirements for the receiving country.
Under this agreement, Russia may require U.S. childcare authorities to monitor the living conditions and upbringing of the adopted children in accordance with Russian domestic laws and ensure that the adopted child has been registered with the Russian consulate in the U.S. territory.
U.S. childcare authorities are obliged to provide any pertinent documents to their Russian counterparts within 60 days from the day these documents are requested.
In the event childcare authorities do not comply with the domestic legislation of the country of origin, "the Executive Body of the Country of Origin [the Russian Education and Science Ministry and the U.S. Department of State, accordingly] may suspend or terminate the authorization to perform activities in the field of inter-country adoption in the territory of the Country of Origin."
If the adoption is found to no longer be in the best interests of the child, the executive bodies of the parties are required to hold consultations as soon as possible, to develop measures to safeguard the interests of the child.
All rights reserved by Rossiyskaya Gazeta.