Clothing companies flock to Russia in search of untapped revenue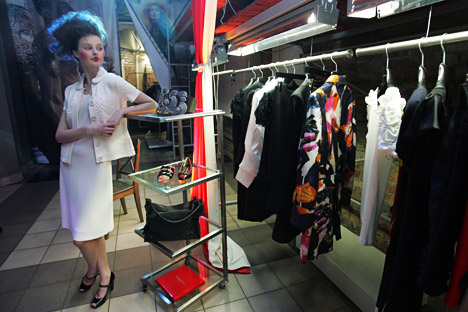 Brands such as Scotch & Soda, Mohito, Takko Fashion, OVS and Michael by Michael Kors are being amongst the newcomers to the Russian market. Source: ITAR-TASS.
Financial woes across Europe and the U.S. have brought more and more big brands to Russia's clothing market. In addition, fashion retailers already in Russia are starting to look outside of Moscow and St. Petersburg and toward smaller Russian cities for new store locations.
As the European and American clothing markets fail to climb out of the recession, the Russian market has become something of a ray of hope for fashion retailers. In Russia they can count on a 6-7 percent growth in sales; in other countries these days a growth of 1-2 percent is considered good going.
The biggest global players – companies like Zara and H&M – have already set up shop in Russia. Medium-size companies are now rushing to lay claim to their share of the Russian market, with seven new clothing brands set to appear in Russia in 2013.
According to the real-estate consulting company Magazin Magazinov, the year 2012 saw 30 foreign brands make an entry onto the Russian market – 11 of these were from the clothing and footwear sector.
The past year, however, was not notable for iconic brands coming to Russia: the last time this happened was two years ago, when brands Uniqlo and Banana Republic appeared in Russia. In 2011, consumers and players in the lingerie market waited with bated breath for the sector's biggest brand – Victoria's Secret – to arrive in Russian shopping centers.
They were disappointed to learn that the American retailer would only be selling its perfume and cosmetic products in Russia until further notice. As RBC Daily reported previously, the first complete Victoria's Secret store is expected to open in Russia in 2013.
Over the past year, following in the wake of big players coming to Russia, second-tier retailers have also made their entry onto the Russian retail market, says managing director of Esper Group, Daria Yadernaya.
"At first, the big companies – H&M, Zara and others – spent money researching the market; then they put it to the test and saw that profits were good; and now the market is stable and not as scary as they first thought. Now that there is more information about it and everything is more transparent, it's possible for the smaller and more cautious companies to make their first steps into Russia," said Yadernaya.
Yadernaya notes brands such as Scotch & Soda, Mohito, Takko Fashion, OVS and Michael by Michael Kors as being amongst the newcomers to the Russian market.
Debenhams, one of the favorite stores on Britain's High Street, has also decided to try its luck in Russia once more. The retailer first made its entry onto the Russian market in 2006. The brand Stefanel has also made a comeback – the brand has had a presence in Russia since 2004 and has changed several partners. Having closed all its stores in 2011, Stefanel has now teamed up with a new distributor – The Denim Star Project.
As before, foreign retailers are mainly setting their sights on Moscow and St. Petersburg when it comes to opening stores. However, the markets of Russia's two biggest cities are already becoming saturated, and many brands have now started to look further afield to Russia's smaller cities. Analysts from Magazin Magazinov use the Mango brand as an example. Mango's management is looking at cities with populations of less than 100,000 for new openings.
In 2013, the Russian retail sector can expect to see more foreign players setting up shop. According to consultants from the real estate agency Knight Frank, 15 new international brands announced their intention to enter various sectors of Russia's consumer market this year. Seven of these brands are clothing stores: Bimba & Lola, Jack Wolfskin, Eurelia, Collezioni, Ferre (an offshoot of Gianfranco Ferre), Nissa, and Pink Woman.
Accessories chains are also planning to open shops in Russia: Meli Melo Paris, Funky Fish, and Stella's Accessories, as well as the footwear chain Humanic.

First published in RBC Daily.
All rights reserved by Rossiyskaya Gazeta.