Governors openly challenge the Kremlin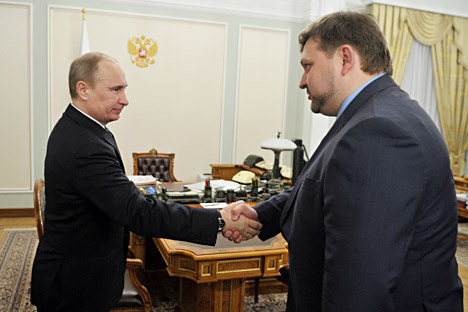 Vladimir Putin and Gov. Nikita Belykh of Kirov Region. Source: Aleksey Nikolsky / RIA Novosti.
In their latest regional socio-political stability rating, experts at the St. Petersburg Politics Foundation reported a certain change in the behavior of regional elites, who have apparently started to oppose the Kremlin on some high-profile issues.
What has been most surprising this past month is the increasing willingness of governors to publicly take their own stance on a number of high-profile issues – even if this puts them on a collision course with some federal elites. The most glaring examples of this have been the discussions regarding adoptions and the elections of leaders in Russia's republics.
Debates on the possibility of repealing direct elections of regional governors (or at least heads of ethnic republics) resumed in November and December of 2012, meeting a sympathetic – or at least neutral – attitude toward the idea in the federal center. References to Vladimir Putin's statements on potential "special arrangements" for national republics appeared to be signs of intent to take back a number of concessions made as part of the December 2011 political reform – as far as the republics were concerned, in any case.
Many regional leaders perceived this scenario as unfriendly and potentially damaging to the influence they wield in their regions. As a result, the heads of Tatarstan, Bashkortostan and even Dagestan – the republic most often touted as a potential testing ground for a return to the appointment system – opposed scrapping the elections.
Only President Teimuraz Mamsurov of North Ossetia and his party advocated abolishing the elections: an apparent indication of the growing weakness of the republic's authorities, which failed to secure a convincing election result for Putin's United Russia party in the fall elections.
Involving regional elites in the PR campaign to support a bill banning American citizens from adopting Russian orphans was also fraught with surprises.
Formally, regional parliaments declared their support; but the fact that they were involved in a campaign surrounding a controversial measure that was not very popular amongst deputies and regional lawmakers to begin with came as an unpleasant surprise for them.
The Pskov Region Duma only supported the bill on a second try and with a minimal number of votes, while a number of deputies (especially those sensitive to reputational risks) sought to diversify image risks and used various pretexts to avoid the vote altogether. Moreover, a number of governors expressed doubts about the bill.
Among them were not only Gov. Nikita Belykh of Kirov Region, but also Kaliningrad and Novosibirsk governors Nikolai Tsukanov and Vasily Yurchenko, respectively, who had not been known for having dispositions toward such public gestures.
Judging by the developments that occurred at the end of 2012, another trend is to be expected over the next few weeks, as regional heads scramble to jump on the "patriotic" bandwagon in line with the agenda stemming from the Russian president's annual State of the Nation Address.
Ramzan Kadyrov's initiative to invite Gerard Depardieu to Chechnya was perceived as nothing short of exotic as recently as December, while Mordovia's January activity in this area met unequivocal federal support. Since the criteria of "patriotism" remain rather vague, the regions may well show some creativity in their bids to demonstrate commitment to the "patriotic" idea.
All rights reserved by Rossiyskaya Gazeta.