Tour operators hope that the Olympics will encourage more Russian tourists to visit Sochi and Krasnaya Polyana. Source: ITAR-TASS.
Many tourism-related events are expected to take place in Russia next year, the most exciting of which will be the completion of the 2014 Sochi Olympics facilities, the 2013 Summer Universiade in Kazan and the Year of Chinese Tourism in Russia.
Completion of construction projects in Sochi and Krasnaya Polyana
All of the Olympic facilities must be completed and tested in 2013. A total of 45 new hotels with a combined capacity of 27,000 guests will have opened in Sochi by June 2013. Forty percent of these hotels will be either five- or four-star facilities. The new Roza Khutor modern ski-resort complex has been built in Krasnaya Polyana and has hosted its first test tournaments.
Tour operators hope that the Olympics will encourage more Russian tourists to visit Sochi and Krasnaya Polyana, particularly to see the facilities built especially for the event.
Summer Universiade in Kazan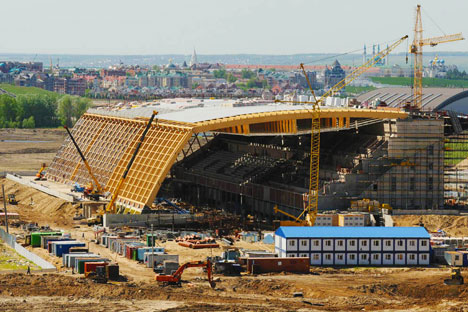 The 2013 Summer Universiade will take place in Kazan from Jul. 6-17. Fifteen new hotels with a total capacity of 1,500 guests will be opened in the capital of Tatarstan, in anticipation of the world's largest university sporting event. Several hotels from the world's biggest chains will form part of this number. Athletes and delegates from 150 countries are expected to visit Kazan this summer, along with fans and tourists.
Authorities hope that the Universiade will draw attention to the city and result in an increase in annual tourist flows, up to 2 million from 1.2 million currently. However, experts fear that it may be difficult to fill all the new hotels.
Russian entry visas to be abolished for participants in official events
As early as next year, Russia may introduce a 10-day visa-free stay for foreigners participating in various official events, the Ministry of Culture has said. This will only apply to those who come to Russia as participants or spectators (that is, those who have tickets or invitations) of various official business, cultural and sporting events.
Inbound tourism experts have repeatedly pointed out that the introduction of a visa-free regime between Russia and developed nations would boost interest in Russia as a travel destination and lead to greater revenues from inbound tourism. In 2011, Russia made 3.4 trillion rubles ($112 billion) on tourism (5.9 percent of its GDP), which included 517.2 billion rubles of revenues from foreign travelers, according to the WTTC.
Year of Chinese tourism in Russia
The year 2013 has been declared the Year of Chinese Tourism in Russia. The goal is to build on the impressive results of the 2012 Year of Russian Tourism in China, when the number of Chinese visitors increased in the first nine months of the year – up to 276,000 people, or 41 percent more than from the same period in 2011.
The number of tourists visiting Moscow rose by 17 percent during the same nine-month period. China became the second country (behind only Germany) in the number of tourists visiting Russia.
There are plans to repeat some of the most successful initiatives of the Year of Russian Tourism in China, including the Russia–China rally for journalists from the two countries. Last year, Russia accounted for most of the route, whereas, in 2013, the rally will run through Russia and Western China.
A media tour for 100 Russian journalists will be organized next year, as well as a familiarization trip for Russian tour operators. Teachers and students at 100 Russian tourism universities will be trained in China. A documentary film ("Hello, China!") will also be produced.
Introduction of Croatian entry visas for Russians
Croatia joins the EU on July 1, 2013, which means that Russians will have to obtain entry visas to the country starting April 1, 2013. Tour operators have concerns that the visa regime will affect the flows of Russian tourists to that country, especially from the regions. Getting a visa will likely be a mere formality, but Russian tourists are often discouraged by the very fact that they have to apply for visas.
The Croatian Foreign Ministry has assured Russian travel agencies that it will do its best to simplify the visa procedures. To this end, Croatia plans to open visa centers across Russia.
20th anniversary of MITT
The largest travel show in Russia – the Moscow International Travel & Tourism (MITT) exhibition – will celebrate its 20th anniversary in 2013. More than 3,000 representatives from nearly 190 countries will attend the show, which occupies all eight halls of the Moscow Expo Center.
Russian tour operators traditionally announce package tour costs for the new season during the MITT, and travel agents from Moscow and other Russian regions attend the show to learn about the new products offered on the tourism market. More than 80,000 people attend the four-day show, where tourism professionals account for 75 percent of visitors.
1,150th anniversary of Smolensk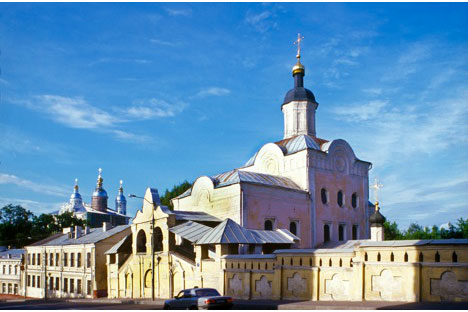 Smolensk was first mentioned in medieval chronicles under the year 862. Source: William Brumfield.
Smolensk, one of the most ancient Russian cities, will celebrate its 1,150th anniversary in 2013. Smolensk is located 378 kilometers (235 miles) to the southwest of Moscow and was first mentioned in "The Primary Chronicle" as a center of the Krivichi tribe. A program to promote tourism for the period through 2015 includes projects to create an auto-tourism cluster in the city along the M1 highway and the Old Smolensk Road tourist route (the former Posolski Trakt).
All rights reserved by Rossiyskaya Gazeta.