Bolshoi drama: Looking for answers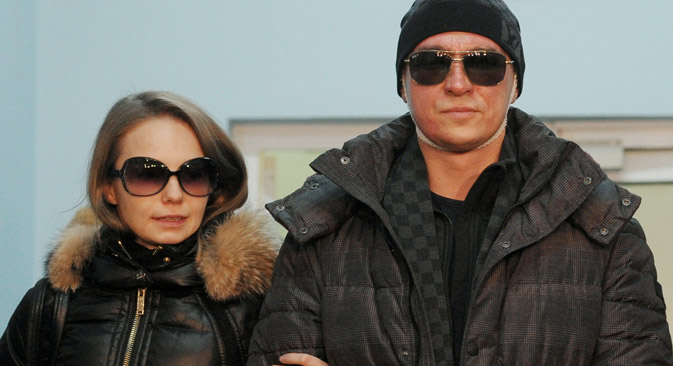 The Bolshoi Ballet's artistic director Sergei Filin was released from hospital on Feb. 4. Source: Syisoev / RIA Novosti
On Jan. 17, a man wearing a mask splashed sulphuric acid into the face of the Bolshoi Theater's artistic director, Sergei Filin. After spending two weeks in a Russian hospital, he left for additional care in Germany on Feb. 4. Just after undergoing his fourth surgery in Moscow, he spoke to Anna Nemtsova about his attack.
Russia Beyond the Headline: The attack on you shocked the entire world. Did the attackers destroy much of your face? Are you worried about what it is going to look like in the future?
Sergei Filin: As a man, I can tell you that my appearance does not bother me: the beauty is not on the face. I am going to be the same Sergei Filin who used to love, be a good friend, and speak the truth. I hope that those who know me are not going to turn their backs to me when they see that now I am a bit bald and blind. I also promise you, that all our new ballets will be staged – I might not see them well with my eyes, but I will hear them with my ears.
RBTH: Your friends say you are a fearless fighter and that even at the hospital you continue to work. How are you keeping up?
S.F.: At times I put my hand on my heart and ask myself: "is it tough, Sergei?" Yes it is. "Does it hurt, Sergei?" Oh, yes, it does. "Will you overcome this trouble?" Of course, I will. This is just one more challenge testing my strength. But I scold myself for being too careless about my own security since last December, when I felt increasing negative moves and hostile attention to my personality.
RBTH: The Bolshoi director general Anatoly Iksanov said in an interview with Newsweek that for the last two years there has been a group of people interested in creating a war at the theater. Who are these people? Do you suspect anybody?
S.F.: From the second day I joined the Bolshoi in 2011 as ballet director I felt that something awkward was happening inside the Bolshoi, and in its closest orbit - all sorts of dirty intrigues, leaks of compromising materials into mass media and into the Internet, as if somebody in the highest echelons of Bolshoi's management had an agenda to give us blows and destroy us. I am convinced that there were not two or three participants but a big group of people involved in discrediting the cathedral of art.
RBTH: Some hackers broke into your personal mail last year and published letters where you criticize some statements by one of your top dancers, Nikolai Tsiskaridze. Do you suspect Tsiskaridze in ordering the attack on you?
S.F.: We'll find out the truth very soon. Unfortunately, I did not investigate before. But I always realized that I should be working on two front lines, demonstrating perfect results of ballet and at the same time not allowing the offenders to blackmail me, upload some intimate photographs of me nude or, say, with Cindy Crawford in a sauna. But I constantly faced some provocations. Somebody must have been paying our dancers to create conflicts, stage small revolutions, to confront me publicly, and backstage.
RBTH: Jealousy poisoned Russian ballet in the past but there were no big money temptations in Soviet theaters. What made you think that money was involved in these events?
S.F.: It became clear half a year ago. Police showed me a flash drive with all my personal letters on it; it turned out that some hackers from Chelyabinsk had broken into my personal email account for a fee of about $200. But who ordered them to do that remained a secret. My offenders published some of my letters on my Facebook page. It was astonishing that seven people, some probably involved in abusing me, asked me to add them as my Facebook friends on that day.
RBTH: Police are questioning your dancers every day. Can you think of one person who could be the attacker?
S.F.: I take a blank piece of paper and try to imagine that I paint the portrait not of the person who poured acid into my face, but of the one who ordered the crime. He has definitely never had a family, never had children. No parent, no matter how deeply offended with me, would ever think of destroying my chance of seeing how my three children grow up. Probably that person has no parents either. One feature prevails in the portrait: loneliness. Only a very sick and lonely man could make such a decision. I confessed to a priest about my own sins and promised to forgive everybody who wished me evil.
RBTH: Do you believe that there is enough political will to find the attacker?
S.F.: Nowadays they could pull out a drowning man from the Seine River with my picture in his jacket and say that he was the one. Honestly, I do not count on this.
RBTH: Last year Nikolai Tsiskaridze and his supporters collected signatures on a petition to Vladimir Putin asking him to fire Iksanov and appoint Tsiskaridze the Bolshoi's director. But the Kremlin extended Iksanov's contract until 2013. Did you have a chance to talk to the Kremlin about the Bolshoi's management problems with top dancers?
S.F.: Yes the tensions increased right after Iksanov's appointment. We spoke to both Vladimir Putin and Dmitry Medvedev (when he was still Russian president) about the importance to stop the conflicts we all suffered from at our theater. The question is whether our authorities will solve the global problem at the theater. Who are these people who have been terrorizing the Bolshoi's stage for so long? If it remains a secret, I, a Russian citizen, a father, an honest taxpayer, will always wonder what else should happen in our country that would deserve an official reaction."
Anna Nemtsova is a Newsweek and The Daily Beast correspondent in Moscow.
All rights reserved by Rossiyskaya Gazeta.