George R.R. Martin in Russia: What is the Game of Thrones writer up to?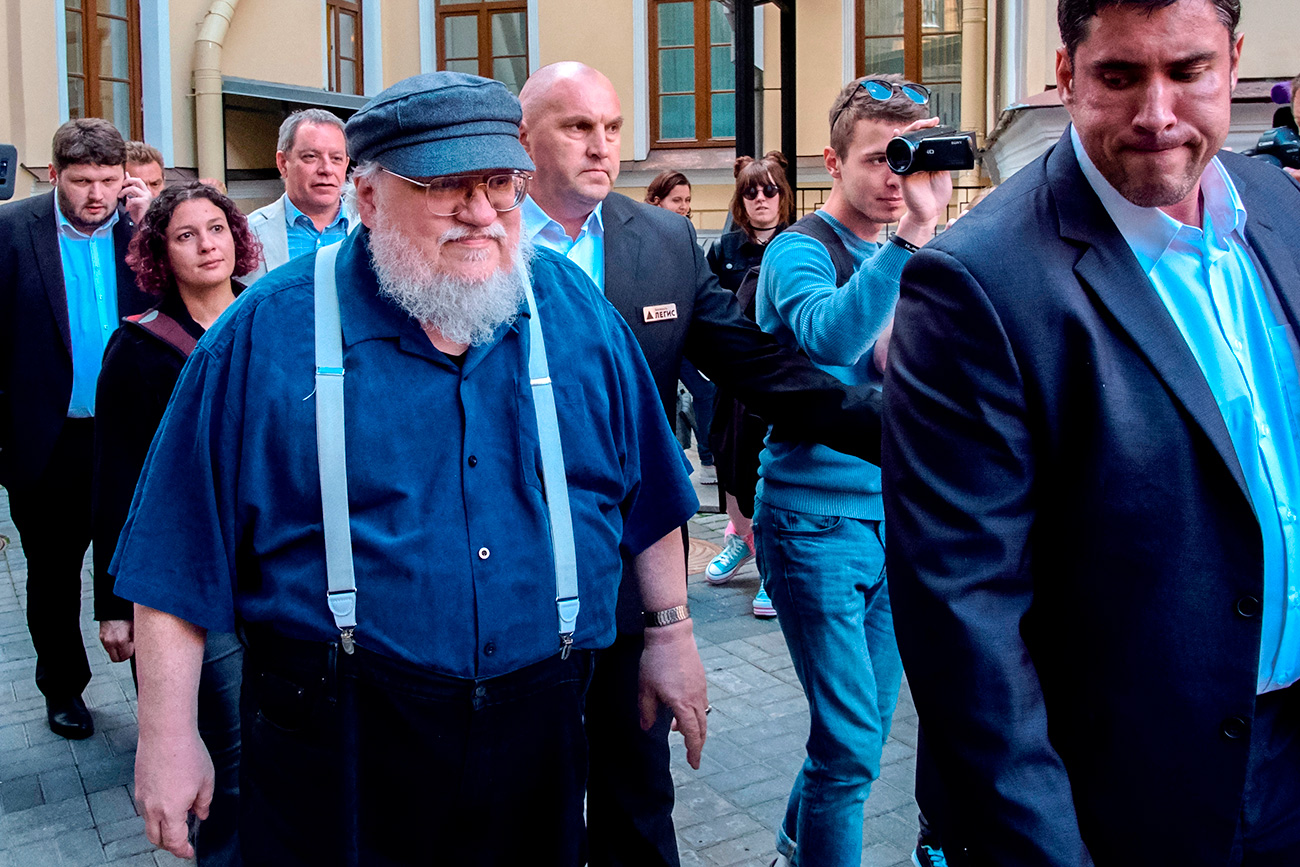 American science fiction writer George Raymond Richard Martin in St. Petersburg. 16.08.2017
Alexei Danichev/RIA Novosti
The author of the series of novels "A Song of Ice and Fire" (adapted into the Game of Thrones TV show) George R.R. Martin has arrived in St. Petersburg. Vyborg Castle, Putin questions, and new "leaks" – here is a short review of his trip.
It took the White Walkers seven whole seasons to reach the Wall, but it took the man who wrote the books behind the incredibly popular "Game of Thrones" (GoT) HBO TV series 68 years to visit Russia. George R.R. Martin has finally touched down in the Motherland for the Petersburg Fantasy Assembly (the conference for sci-fi and fantasy authors kicks off on Aug.18). He's managed to get around the country before the event goes live, visiting some special places and giving interviews.
During his first day in Russia he traveled to the city of Vyborg to check out the medieval castle there. Martin was rocking some skull and crossbones braces to keep his trousers up, not to mention a serious swagger Eddard Stark would be proud of.
Martin was presented with a gift: A copy of fantasy book "The Devil's Patience" by the local writer Alexey Sokolov.
After arriving in St. Petersburg he was treated to cake with sparklers in a restaurant as GoT music played in the background. Luckily, the waiters didn't lock the doors and start playing "Rains of Castamere" as suggested by some Russian Internet users. "Would be priceless to see his reaction," one person posted.
Martin also walked around the Winter Palace and held a press conference, where he refused to answer questions about Russian politics.
Russians failed to learn which GoT house Martin thought Russian President Vladimir Putin would belong to in Westeros. The American writer's interpreter refused to translate the question, and later Martin said he doesn't know anything about politics in Russia.
"You have to sort that out for yourselves," said the writer.
Anyways, fans were just happy to see the man himself in Russia.
"I'll be sitting two meters away from him. I'll probably even find out how he smells."
Well, good luck with that...
Read more:
If using any of Russia Beyond's content, partly or in full, always provide an active hyperlink to the original material.