Star Wars snippet: You won't believe who's the next best hope for the Galaxy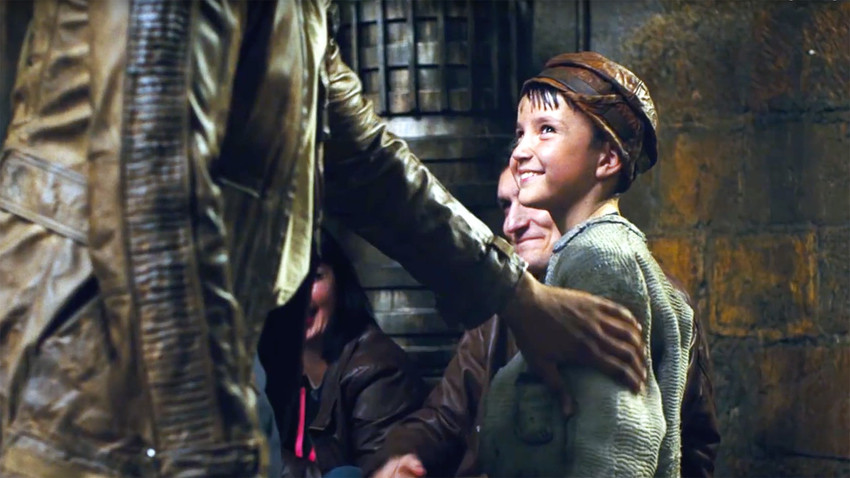 Star Wars: Episode VIII - The Last Jedi, 2017 by Rian Johnson / Walt Disney Studios Motion Pictures
After 18 months of waiting to be casted, a 10-year-old boy from Southern Russia was given a small but crucial role in the Last Jedi.
WARNING! SPOILERS ahead for Star Wars: The Last Jedi!
In one scene of Star Wars: The Last Jedi, resistance fighters Finn and Rose find themselves in the posh casino city, Canto Bright, where they encounter orphans who slave as stable hands in pens holding fathiers, bizarre creatures that race in the local track.
At the film's end, one of the stable boys reveals his connection to the Force by magically pulling a broom towards himself. As the Star Wars Visual Dictionary indicates, the boy's name in the movie is Temiri Blagg. The film ends with the boy, who wears a Resistance ring that Rose gave him, looking up to the stars, his mind full of premonitions about the future.
IMDB lists the boy as played by a young Russian actor, Temirlan Blaev. HIs father told Afisha.Daily (link in Russian) that Temirlan was born in Nalchik, capital of Kabardino-Balkar Republic in south Russia. While Temirlan was a boy, the family moved to London, where his father took a job.
In an Instagram post Temirlan's father said: "It is finally that time when we can announce that our Temi @tem_blai is a very lucky boy who got the role in Star Wars 8! It was 1.5 years of painful waiting and up to the last day we didn't know if he's included in the final cut or not. The role is small but very important. I hope you'll like it!"
If you're a Star Wars fan, then check out our list "11 Soviet sci-fi films that every Star Wars fan should see." For movie lovers who don't dig sci-fi, here's our selection of the latest Russian movies.
If using any of Russia Beyond's content, partly or in full, always provide an active hyperlink to the original material.