Watch the best auditions from Russia's 'The Voice'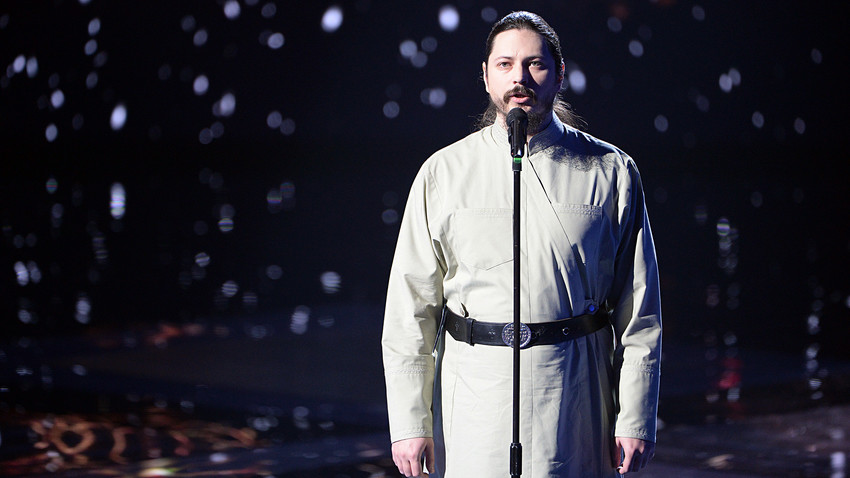 Monk-priest Fotiy sings during the recoding of The Voice of Russia episode.
Sergey Pyatakov/Sputnik
The Russian TV show Golos (The Voice) was rated the best musical TV show in the country in 2015 and still enjoys high ratings. We picked the most engaging performances from the best Russian talents.
1. Dina Garipova - 'And As I Go I Will Say'
Dina Garipova has become famous for her fascinating renditions of classic Russian romantic films. This is one of her finest performances, a famous piece from the Russian movie A Cruel Romance.
2. Mikhail Zhitov - 'La La La'
Twenty-six-year-old musical prodigy from Arkhangelsk, Mikhail Zhitov, has been into singing from his early years. Unusually, his childhood musical idol was Whitney Houston. With his wide vocal range and precise pitch, Mikhail does a stunning rendition of La La La by Sam Smith and Naughty Boy, with Maria Panyukova, the star of Golos for children, filling in the chorus.
3. Hieromonk Fotiy - 'Lensky's Aria'
Hieromonk Fotiy, 32, received a special blessing from metropolitan bishop Kliment, his spiritual mentor, to take part in Golos. Fotiy studied music until his teens and in 2005 he decided to become a monk and Orthodox priest. Patriarch Kirill of Russia has said that through Fotiy's popularity, many people have rediscovered the Orthodox faith.
4. Anton Belyaev - 'Wicked Game'
With his contemporary jazz band Thierr Maitz, Anton Belyaev is one of the most stylish Russian artists, who also does a lot of charity work. Anton has been repeatedly named "Most Stylish Russian Artist" and "Person of The Year" by leading Russian tabloids. Here, you can watch him perform a cover of a song that really shows his skill, Chris Isaak's Wicked Game.
5. Mariam Merabova - 'Georgia On My Mind'

Mariam Merabova studied jazz from a young age, but when she came from her native Yerevan (Armenia) to Moscow, she had to struggle to make her voice heard. Mariam paid her dues when she worked as a cloakroom attendant in Blue Bird, Moscow's famous jazz joint. She listened to jazz masters play and polished her craft. Mariam is one of the few Russians who dared to cover Ray Charles's immortal Georgia On My Mind.
6. Nargiz Zakirova - 'Still Loving You'
Born in Tashkent, Uzbekistan, where her father was a famous musician, in 1995 Nargiz Zakirova moved to New York, where she worked different jobs while pursuing her music career. After she failed to make an impact in American X-Factor, Nargiz succeeded with Golos, which brought her stardom in Russia.
7. Era Kann - 'Endangered Species'
A Korean who was born in Samarkand, Uzbekistan, but lived most of her life in Saratov, Irina Brucheeva had been trained in jazz by Daniil Kramer, one of Russia's most sophisticated jazz pianists. For her stage persona, she adopted the real name of her Korean grandmother, Era Kann. Here, she does a rendition of Dianne Reeves' Endangered Species, which brought her national fame.
If using any of Russia Beyond's content, partly or in full, always provide an active hyperlink to the original material.