Alcoholic drinking first figured into the central plot of a work of Russian literature with Venedikt Erofeev's prose poem, "Moscow-Petushki," Kommersant, a leading daily newspaper, recently said. The truth, however, is that Russian literary heroes have always enjoyed a tipple, so here's a short list of their favorites.
1. Punch – Pyotr Grinyov in Alexander Pushkin's The Captain's Daughter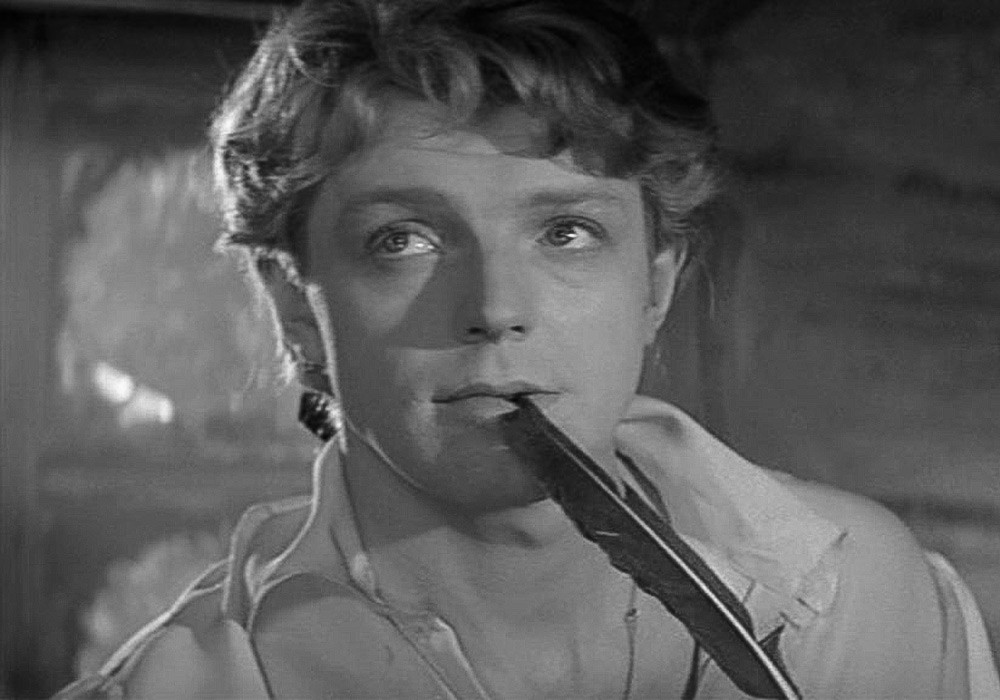 An older officer, Zurin, needed money and decided to secure the cash by playing and winning a game of billiards with young Pyotr Grinyov, who was starting his military service. Pyotr said that he didn't know how to play billiards, but Zurin promised to teach him, stating that every officer must know how to play billiards and drink. "Zurin ordered rum punch and persuaded me to give it a try, saying once more that I had to get used to service, and what sort of service would it be without punch!"
In the end, Pyotr lost a lot of money – "Every sip from my glass made me bolder" – and woke up with a terrible headache.
2. Anything liquid– Landed gentryinNikolai Gogol's Dead Souls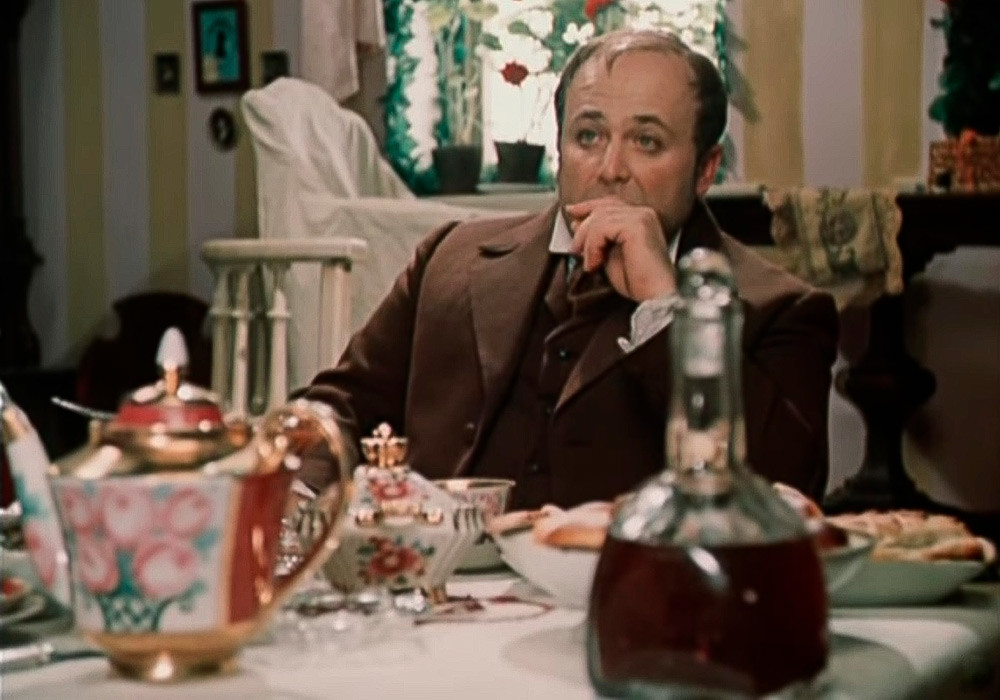 Mikhail Shveitser/Mosfilm, 1984
Bored landowners in Russia where fond of drinking, especially when they had guests, and never took 'No' for an answer when a visitor refused an offer for a drink. One day, Chichikov was traveling around the countryside buying up dead serfs listed on paper as alive, and walked into the following scene.
"Nozdrev drew heavily upon the wine. Even before the soup had been served, he poured out for each guest a bumper of port and another of 'haut' sauterne. (Never in provincial towns is ordinary, vulgar sauterne even procurable.) Next, he called for a bottle of madeira– 'as fine a tipple as ever a field-marshal drank;' but the madeira only burnt the mouth since the dealers, familiar with the taste of our landed gentry (who love 'good' madeira), invariably doctor the stuff with copious dashes of rum and Imperial vodka in the hope that Russian stomachs will thus be enabled to carry off the lot. After this bottle, Nozdrev called for another and 'a very special' brand, which he declared to consist of a blend of burgundy and champagne."
3. Madeira– Ilya Oblomov in Ivan Goncharov's Oblomov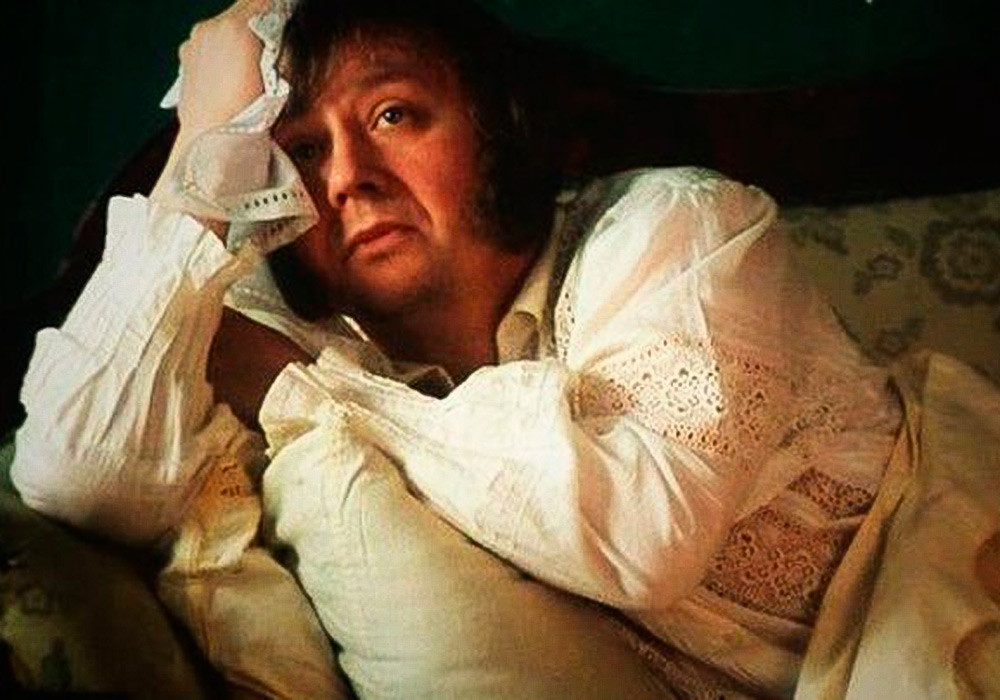 Nikita Mikhalkov/Mosfilm, 1979
The main character spends most of his time in a reclining position and is not averse to a drink to help him sleep. His servant told the coachman and the lackeys: "Would you believe it? He drank – all by himself – a bottle and a half of madeira, two shtofs of kvass, and now he is fast asleep." Furthermore, it would appear that was not the only time when Oblomov drank alone.
4. Champagne, brandy and purespirit– Guests at Satan's ball in Mikhail Bulgakov's The Master and Margarita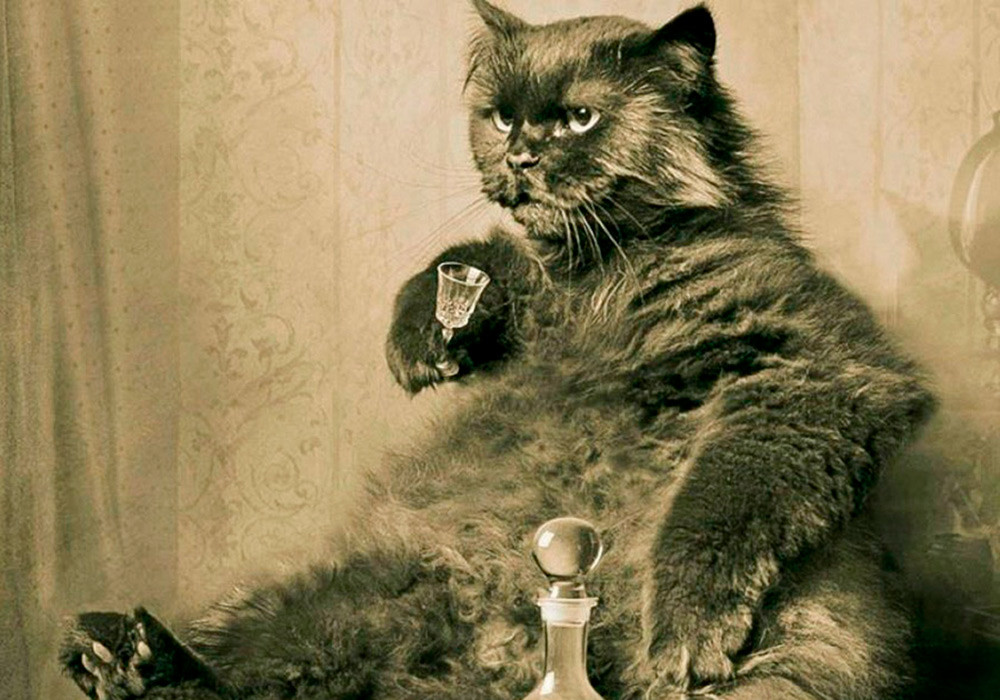 Elena Martynyuk / Bulgakov museum
For an aperitif at this infernal gathering of zombie guests, there was a pool of champagne: "Champagne bubbled in three ornamental pools, the first of which was a translucent violet in color, the second ruby, and the third crystal." Ladies dove into the pool and emerged completely drunk.
Later, Behemoth the Cat, with a bit of magic, turned the champagne in the pool into brandy, into which only the most courageous (including the cat) dared to dive.
Tired after the ball, Behemoth, Margarita and Satan himself drank grain alcohol. That scene from the novel has become a source of memes:
"'Is that vodka?' Margarita asked meekly.
The cat jumped up from its chair in indignation.
"'Excuse me, your majesty,' he squeaked, 'do you think I'd give vodka to a lady? That's grain alcohol!'"
5. Vodka and beer – People in a homeless shelter inMaxim Gorky's play The Lower Depths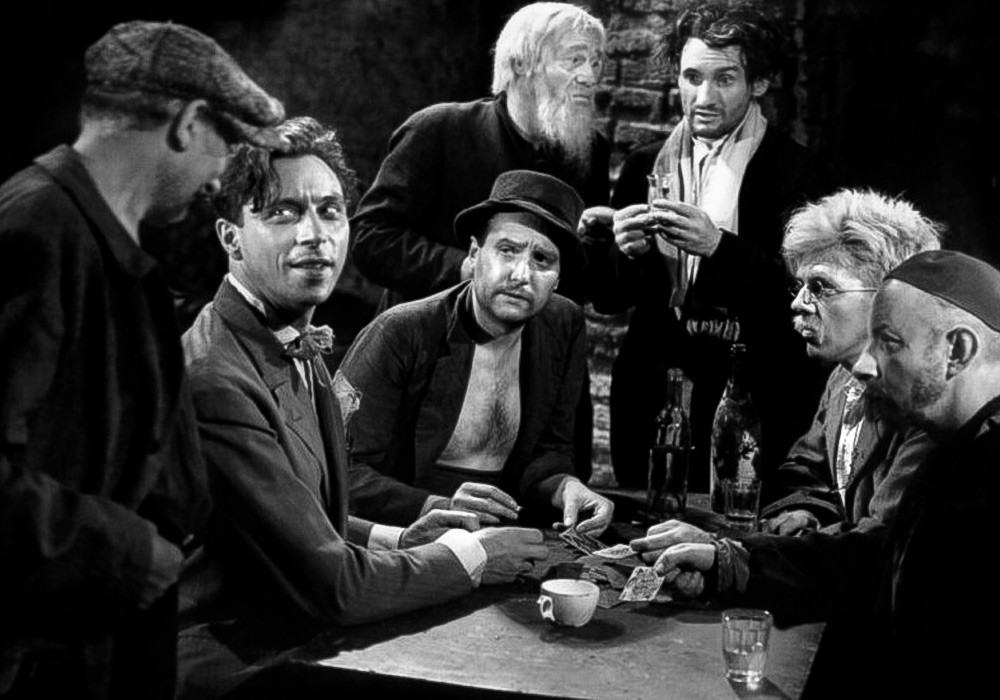 Jean Renoir/Film Albatros, 1936
A bottle of vodka, three bottles of beer and a large slice of black bread appear before Satine, the Baron and Nastya at the beginning of Act Four, and the characters do not stop drinking until the very end of the play. "Fill his glass, Satine! … Ah brothers, what does a man need after all? There, for instance, I've had a drink—and I'm happy!"
6. Everythingandanything– Mitya at a party in Dostoevsky's The Brothers Karamazov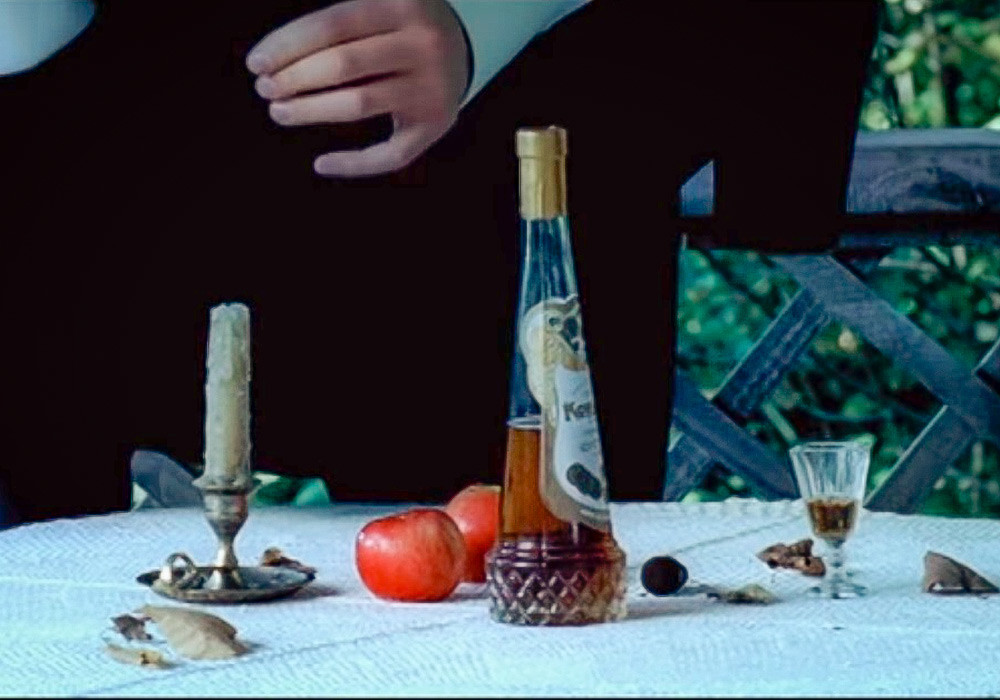 Ivan Pyriev/Mosfilm,1968
The chapter in which the eldest brother, Mitya, drinks a lot and has fun with 'the girls' is aptly called Delirium. It would seem that at the party, which is described as "almost an orgy, a feast to which all were welcome," all kinds of drinks were served: "Only the girls were very eager for the champagne. The men preferred rum, brandy, and, above all, hot punch."
The samovar with punch was kept warm throughout the night and everybody could help themselves. Unfortunately, that drinking bout did not bring anything good, and after the party Mitya was accused of having murdered his father.
7. Gin and pineapple juice– HumbertHumbertinVladimirNabokov'sLolita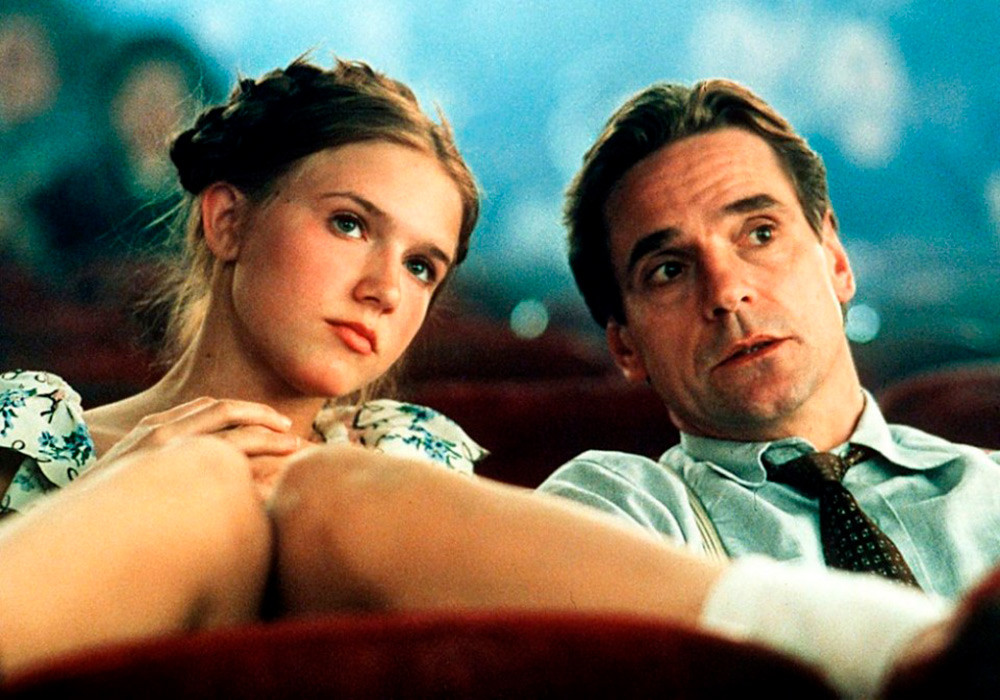 Adrian Lyne/Pathé, 1997
"The afternoon ripened into evening. I had a drink. And then another. Gin and pineapple juice, my favorite mixture, always double my energy." After that Humbert goes to pick up Lolita from a summer camp and sees nymphets everywhere.
Take our quiz: Which character are you from Russian literature?
If using any of Russia Beyond's content, partly or in full, always provide an active hyperlink to the original material.